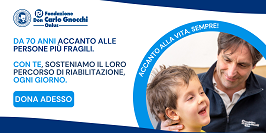 Databases
Services
Submit
Restricted area
Bertocchi C
Emanuele, age 20, motor disability: improving independence at home
Editorial data:
Portale SIVA Fondazione Don Carlo Gnocchi Onlus
Abstract:
Comprehensive intervention for home reintegration of a young man after a coma as a consequence of brain concussion. A special bed, an antidecubitus mattress and assistive aids for the seated..
Year of publication:
2003
Type of document:
Case studies/experiences
Last update:
April 2003
Bertocchi C
Progetto di domiciliazione protetta per una persona con esiti di trauma cranio encefalico
Editorial data:
Tesi Corso di Perfezionamento "Tecnologie per l'Autonomia". Università Cattolica Milano e Fondazione Don Gnocchi, a.a. 2001-2002
Abstract:
(text automatically translated from Italian) The case study regards a boy 20 years old that suffers from ***TCE outcomes (head injury) which they are continuations disability is of motor type is of..
Year of publication:
2002
Type of document:
Thesis
Last update:
May 2003