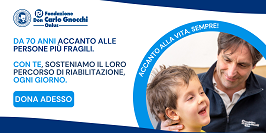 Databases
Services
Submit
Restricted area
Cernigoi G
Gaia, age 72, motor disability: improving independence at home
Editorial data:
Portale SIVA Fondazione Don Carlo Gnocchi Onlus
Abstract:
Gaia's severe impairment of both vital and motor functions, the cognitive ones excluded, was caused by an acute cerebral vascular accident. This experience deals with the patient's home..
Year of publication:
2005
Type of document:
Case studies/experiences
Last update:
February 2005
Cernigoi G
Si torna a casa: il caso di Gaia
Editorial data:
Tesi Corso di Perfezionamento "Tecnologie per l'Autonomia". Università Cattolica Milano e Fondazione Don Gnocchi, a.a. 2003-2004
Abstract:
(text automatically translated from Italian) Gaia is a old woman, hit from an acute vascular event with serious impairment of not cognitive the vital and motor functions tu. In this thesis the..
Year of publication:
2004
Type of document:
Thesis
Last update:
December 2004