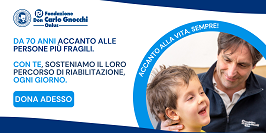 Databases
Services
Submit
Restricted area
Diozzi L
Mario, 63 years old. Autonomy in daily life for a person with ALS
Editorial data:
Portale SIVA Fondazione Don Carlo Gnocchi Onlus
Abstract:
In March 2004, Mario was diagnosed with Amyotrophic Lateral Sclerosis. From the moment the diagnosis was announced, Mario and his wife took initiative using the facilities of the National Law..
Year of publication:
2006
Type of document:
Case studies/experiences
Last update:
July 2011
Diozzi L
Vivere con la SLA in famiglia e nel quartiere: il caso di Mario
Editorial data:
Tesi Corso di Perfezionamento "Tecnologie per l'Autonomia". Università Cattolica Milano e Fondazione Don Gnocchi, a.a. 2005-2006
Abstract:
(text automatically translated from Italian) ***Mario and its wife live to the third plan without elevator in one popular house of one great city. In March of 2004 to ***Mario he comes diagnosed..
Year of publication:
2006
Type of document:
Thesis
Last update:
May 2013