Databases
Services
Submit
Restricted area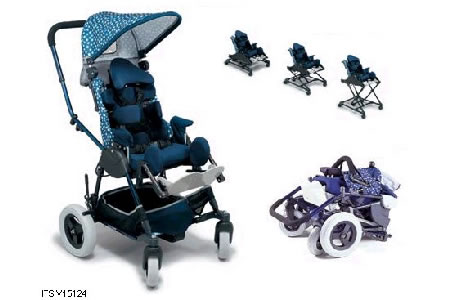 Modular seating systems (ISO 18.09.39)
Modular seating systems (SIVA 18.09.39.S01)
Record number: 15124
Last update: August 2011
Brand: ZIPPIE
Model: KIDS XPRESS
Children's version available
Available sizes:
CAPACITY / RANGE
Lifting capacity (kg): 25.
OVERALL DIMENSIONS
Weight (kg): 15.40.
Width (cm): 60.
SEAT DIMENSIONS / ANGLES
Seat Back Height (cm): 19 - 40.
Seat Depth (cm): 14 - 32.50.
Seat Width (cm): 15 - 30.
Description:
(text automatically translated from Italian) Equipped with balancing system of posture until to 20°, reclining until 45° and height-adjustable back, arranges that can be located of posture also with child whom addressed towards the lateral companion, supports for trunk and pelvis, height-adjustable collapsible parasol and inclination. Two optional bases are available, the ***Shuttle base for indoor use with small wheels and height-adjustable the ***Booster base.
Italian provinces with self-declared local suppliers: