Databases
Services
Submit
Restricted area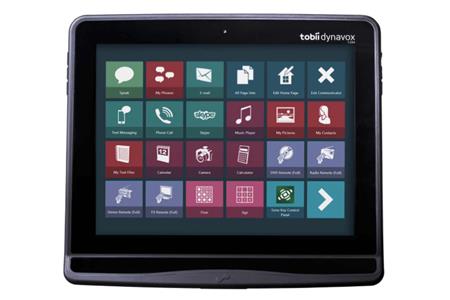 Alternate input devices (ISO 22.36.12)
Eyegaze systems (SIVA 22.36.12.S03)
Record number: 20585
Last update: February 2020
Brand: TOBII DYNAVOX
Model: TOBII SERIE I-15+ EXPERT
Children's version available
Technical details:
ACTIVATION MODALITIES
Eye blink; Eye gaze; Voice recognition.
BROWSERS
Chrome; Firefox; Internet explorer.
CONNECTIVITY
Bluetooth; Usb.
INPUT ADJUSTMENTS
Colour of controls (or keys) can be changed; Number of controls (or keys) configuable; Size of controls (or keys) adjustable.
INPUT DEVICES
Double switch; Microphone; Multiple switch (joystick); Single Switch; Video camera/Webcam.
LANGUAGES
Danish; Dutch; English; French; German; Italian; Spanish.
OPERATING SYSTEMS
Windows.

Description:
Eye control communicator (eye pointer) with 15 "inch screen and battery. Includes the following software for communication and management of the computer or the environment: • Tobii Communicator 5; • Tobii Mouse Emulation: mouse emulator with a look; • Tobii Gaze Selection: for easy navigation on Windows; • Grid 3; • Tobii Gaze Viewer: for the analysis of oculomotor behavior; • iAbleWeb: for easy Internet browsing.
Italian provinces with self-declared local suppliers: