ABLENET - JELLY BEAN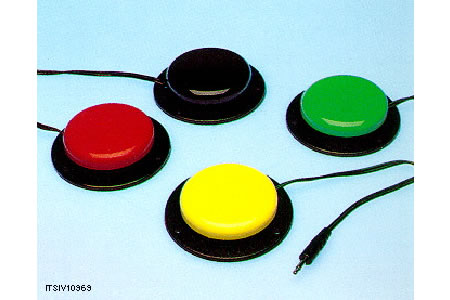 Switches (on/off or other functions) (ISO 24.09.18)
Single switches (switches with only one function) (SIVA 24.09.18.S01)
Record number: 10969
Last update: July 2017
Brand: ABLENET
Model: JELLY BEAN
Technical details:
ACTIVATION MODALITIES
Mechanical.
CONNECTIVITY
Jack.
INPUT DEVICES
Single Switch.

Available sizes:
CAPACITY / RANGE
Joystick activation force (gr): 80.
OVERALL DIMENSIONS
Diameter (cm): 6.50.
Height (cm): 2.
Description:
(text automatically translated from Italian) Pressure switch of medium dimensions activable pushing the upper surface. The base is predisposed with implantation holes. ***E' available in 7 colors. A version for the control through radio waves exists at a distance also. capacity has one until 9 meters.