SCANMEDICALEUROPE - GENESIS ELETTRICO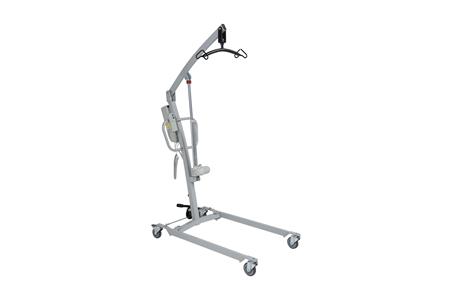 Mobile hoists for transferring a person in sitting position with sling seats (ISO 12.36.03)
Mobile hoists with sling seats (SIVA 12.36.03.S01)
Record number: 13684
Last update: May 2018
Brand: SCANMEDICALEUROPE
Model: GENESIS ELETTRICO
Technical details:
ENERGY TYPE
Battery - rechargeable; Mechanical.
STRUCTURE
Stretchable base.

Available sizes:
CAPACITY / RANGE
Lifting capacity (kg): 180.
OVERALL DIMENSIONS
Length (cm): 117.
Weight (kg): 36.
Width (cm): 48.
SPECIFIC DIMENSIONS
Lifting Height (cm): 159.
Width / Frame Width (cm): 48 - 113.
Description:
Lift equipped with a removable UMEC control unit, remote control with electric cable, 4-point lifting beam, base with 4 pivoting wheels, 2 of which with stop brakes, a FUNGO RED emergency button that blocks the flow of electricity, a mechanical system emergency lowering in the event of a power failure and an additional electronic emergency descent system in the event of a remote control malfunction. Capacity: 180 Kg.

Italian provinces with self-declared local suppliers:

FORLI-CESENA
ADJUTOR SRL
Via Roma, 26 - 47034 FORLIMPOPOLI (FORLI-CESENA) ITALY Phone: +39-0543 745300 Fax: +39-0543 744941 E-mail: adjutor@adjutor.it Website: http://www.adjutor.it
ADJUTOR SRL - SANITARIA ORTOPEDIA - FILIALE DI FORLÌ
Viale Vespucci 55A - 47100 FORLI (FORLI-CESENA) ITALY Phone: +39-0543796420 E-mail: adjutor@adjutor.it Website: http://www.adjutor.it

MANTOVA
ORTOPEDIA GUADAGNI DI MARCELLO FANTI E C. S.A.S.
Viale Gorizia, 17/A - 46100 MANTOVA (MANTOVA) ITALY Phone: +39-0376322230 Fax: +39-0376226532 E-mail: info@guadagni.it Website: http://www.guadagni.it

RAVENNA
ADJUTOR SRL - SANITARIA ORTOPEDIA AUSILI - FILIALE DI RAVENNA
Viale E. Berlinguer, 48 - 48100 RAVENNA (RAVENNA) ITALY Phone: +39-0544407930 E-mail: ravenna@adjutor.it Website: http://www.adjutor.it

RIMINI
ADJUTOR SRL - SANITARIA ORTOPEDIA AUSILI - FILIALE DI RIMINI
Via Circonvalazione Occidentale, 100 - 47900 RIMINI (RIMINI) ITALY Phone: +39-0541789035 E-mail: rimini@adjutor.it Website: http://www.adjutor.it

TORINO
AUSILIUM S.R.L.
Via Monginevro 2/A - 10092 BEINASCO (TORINO) ITALY Phone: +39-01119620906 Fax: +39-01119837880 E-mail: info@ausilium.it Website: https://www.ausilium.it