SCANMEDICALEUROPE - LIFTY 5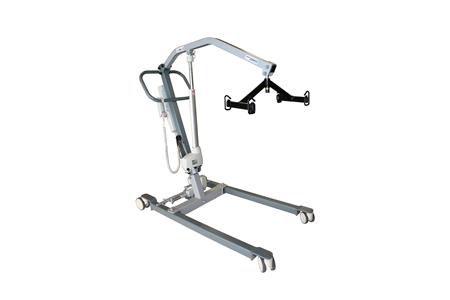 Mobile hoists for transferring a person in sitting position with sling seats (ISO 12.36.03)
Mobile hoists with sling seats (SIVA 12.36.03.S01)
Record number: 13688
Last update: May 2018
Brand: SCANMEDICALEUROPE
Model: LIFTY 5
Technical details:
ENERGY TYPE
Battery - rechargeable; Mechanical.
STRUCTURE
Stretchable base.

Available sizes:
CAPACITY / RANGE
Lifting capacity (kg): 250.
OVERALL DIMENSIONS
Length (cm): 145.
Weight (kg): 68.
Width (cm): 75.
SPECIFIC DIMENSIONS
Lifting Height (cm): 174.
Width / Frame Width (cm): 58 - 100.
Description:
Passive electric lift equipped with a LINAK control unit, remote control, 4-point linkage, moving handle, 4 pivoting wheels, 2 of which with holding brakes, a FUNGO RED emergency button, a mechanical emergency lowering system in case of power failure and an additional electronic emergency descent system in case of remote control malfunction. Electric system for opening and closing the base. Capacity 250Kg.

Italian provinces with self-declared local suppliers:

FORLI-CESENA
ADJUTOR SRL
Via Roma, 26 - 47034 FORLIMPOPOLI (FORLI-CESENA) ITALY Phone: +39-0543 745300 Fax: +39-0543 744941 E-mail: adjutor@adjutor.it Website: http://www.adjutor.it
ADJUTOR SRL - SANITARIA ORTOPEDIA - FILIALE DI FORLÌ
Viale Vespucci 55A - 47100 FORLI (FORLI-CESENA) ITALY Phone: +39-0543796420 E-mail: adjutor@adjutor.it Website: http://www.adjutor.it

MANTOVA
ORTOPEDIA GUADAGNI DI MARCELLO FANTI E C. S.A.S.
Viale Gorizia, 17/A - 46100 MANTOVA (MANTOVA) ITALY Phone: +39-0376322230 Fax: +39-0376226532 E-mail: info@guadagni.it Website: http://www.guadagni.it

RAVENNA
ADJUTOR SRL - SANITARIA ORTOPEDIA AUSILI - FILIALE DI RAVENNA
Viale E. Berlinguer, 48 - 48100 RAVENNA (RAVENNA) ITALY Phone: +39-0544407930 E-mail: ravenna@adjutor.it Website: http://www.adjutor.it

RIMINI
ADJUTOR SRL - SANITARIA ORTOPEDIA AUSILI - FILIALE DI RIMINI
Via Circonvalazione Occidentale, 100 - 47900 RIMINI (RIMINI) ITALY Phone: +39-0541789035 E-mail: rimini@adjutor.it Website: http://www.adjutor.it

TORINO
AUSILIUM S.R.L.
Via Monginevro 2/A - 10092 BEINASCO (TORINO) ITALY Phone: +39-01119620906 Fax: +39-01119837880 E-mail: info@ausilium.it Website: https://www.ausilium.it