INVACARE - ESCORT P435B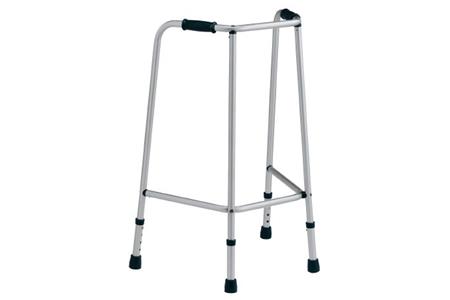 Walking frames (ISO 12.06.03)
Walking frames without castors (SIVA 12.06.03.S01)
Record number: 13976
Last update: November 2018
Brand: INVACARE
Model: ESCORT P435B
Technical details:
MATERIALS
Aluminium.

Available sizes:
CAPACITY / RANGE
Lifting capacity (kg): 120.
OVERALL DIMENSIONS
Height (cm): 80 - 90.
Length (cm): 42.
Weight (kg): 2.50.
Width (cm): 41.
Description:
Fixed walker, light and adjustable in height from 77 to 85 cm. The frame is anodised gray and has solid elastomer handles. Aluminum structure with inclined legs for greater stability. Can be equipped with front fixed wheels (0435CEB).

Italian provinces with self-declared local suppliers:

ALESSANDRIA
SANITAS MG4
Via Garibaldi, 91/9 - 15067 NOVI LIGURE (ALESSANDRIA) ITALY Phone: +39-01432656 Fax: +39-01432656 E-mail: info@ortopediamg4.it Website: http://www.ortopediamg4.it

MILANO
L'ORTOPEDIA SNC
VIA ENRICO DE NICOLA 26 - 20059 CESANO BOSCONE (MILANO) ITALY Phone: 0233614610 Fax: +39-0231809657 E-mail: info@lortopedia.it

RAVENNA
SANITARIA ROMAGNOLA SRL
via Provinciale Cotignola 22/1 - 48022 LUGO (RAVENNA) ITALY Phone: 054523669 Fax: 0545909334 E-mail: info@sanitariaromagnola.it Website: http://www.sanitariaromagnola.it

TORINO
AUSILIUM S.R.L.
Via Monginevro 2/A - 10092 BEINASCO (TORINO) ITALY Phone: +39-01119620906 Fax: +39-01119837880 E-mail: info@ausilium.it Website: https://www.ausilium.it

VERCELLI
ORTOPEDIA PIEMONTESE
Via Trento 36 - VERCELLI (VERCELLI) ITALY Phone: +39-0161213333 E-mail: Info@officinaortopedicapiemontese.it Website: http://www.officinaortopedicapiemontese.it