CRICK SOFTWARE - CLICKER 6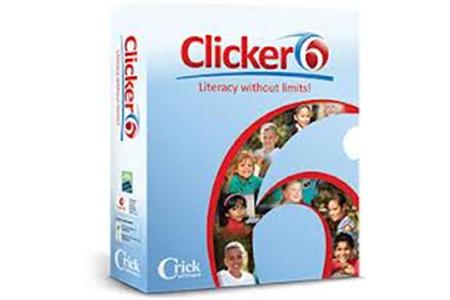 Face-to-face communication software (ISO 22.21.12)
Face-to-face communication software (SIVA 22.21.12.S01)
Record number: 19656
Last update: February 2021
Brand: CRICK SOFTWARE
Model: CLICKER 6
Technical details:
FUNCTIONALITIES
Allows creation of Macro function; Switch controlled scanning; Word prediction/completion.
INPUT ADJUSTMENTS
Colour of controls (or keys) can be changed; Controls (or keys) activation delay adjustable; Font size on controls/keys adjustable; Number of controls (or keys) configuable; Scanning speed adjustable; Size of controls (or keys) adjustable; Type of scanning.
INPUT DEVICES
Double switch; Keys/Keyboard; Mouse; Single Switch.
LANGUAGES
English; Italian.
LINGUISTIC REPRESENTATIONS
Alphabetic; Symbolic.
OPERATING SYSTEMS
Windows.
OUTPUT DEVICES/SOFTWARE
Audio file or sound/speech recorded; Screen; Voice synthesis.
REPORTED WITHIN THE RESEARCH PROJECT
Cloud4All.

Description:
(Automatic translation) This software allows you to create tables and custom grids, both for activities? didactic communication, with the voice output digital (sounds recorded) or synthesized speech. The selection of cells can? be done with the mouse, keyboard or scanning through external sensors. Individual cells can be combined: pictures, sounds and written text commands to execute another program, macro keys, opening another table.

Italian provinces with self-declared local suppliers:

BARI
TECNOLOGIE ASSISTIVE
Via Estramurale San Pietro, 117 - 70021 ACQUAVIVA DELLE FONTI (BARI) ITALY Phone: +39-3927323161 E-mail: info@tecnologieassistive.it Website: http://www.tecnologieassistive.it/

BOLOGNA
ANASTASIS SOC. COOP. SOCIALE
Via Amendola, 12 - 40121 BOLOGNA (BOLOGNA) ITALY Phone: +39-0512962121 Fax: +39-0512962120 E-mail: rvitali@anastasis.it Website: http://www.anastasis.it
HELPICARE BY DIDACARE SRL
Via Santa Clelia Barbieri n. 12 - Loc. Le Budrie - 40017 SAN GIOVANNI IN PERSICETO (BOLOGNA) ITALY Phone: +39-0516810450 Fax: +39-0516811287 E-mail: info@helpicare.com Website: http://www.helpicare.com

CAGLIARI
P.A.C. SRL
Via Sebastiano Satta, 20 - 09125 CAGLIARI (CAGLIARI) ITALY Phone: +39-070670795 Fax: +39-070660785 E-mail: ausili@pac-informatica.com Website: http://www.pac-informatica.com

MODENA
AUXILIA S.R.L.
Viale Carlo Sigonio, 227 - 41124 MODENA (MODENA) ITALY Phone: +39-059216311 Fax: +39-059220543 E-mail: info@auxilia.it Website: http://www.auxilia.it

NOVARA
SOFTIME SRL
Via Risorgimento, 36 - 28010 CALTIGNAGA (NOVARA) ITALY Phone: +39-0163423393;+39-0321652419 Fax: +39-0321652509 E-mail: info@softime-informatica.it Website: http://www.softime-informatica.it

PADOVA
ORTOPEDIA ANTONIANA SRL
Via Bembo, 144 - 35124 PADOVA (PADOVA) ITALY Phone: +39-049657733 Fax: +39-049684566 E-mail: info@antoniana.com Website: http://www.antoniana.com

REGGIO EMILIA
LEONARDO AUSILIONLINE S.R.L.
Via A.B. Nobel, 88c - 42124 REGGIO EMILIA (REGGIO EMILIA) ITALY Phone: +39-0522923770 Fax: +39-0522272586 E-mail: staff@leonardoausili.com Website: http://www.leonardoausili.com

SALERNO
MONDOAUSILI.IT BY ALBAMATIC SRL
Via Nazionale, 107 - 84012 ANGRI (SALERNO) ITALY Phone: +39-081946587 Fax: +39-0815134172 E-mail: info@mondoausili.it Website: https://www.mondoausili.it

VICENZA
MEDIA DIRECT SRL
Via Villaggio Europa 3 - 36061 BASSANO DEL GRAPPA (VICENZA) ITALY Phone: +39-0424504650 Fax: +39-0424504651 E-mail: info@campustore.it Website: http://www.campustore.it/ausili