ELMI - CULLA BALANCE TRANSFER INDOOR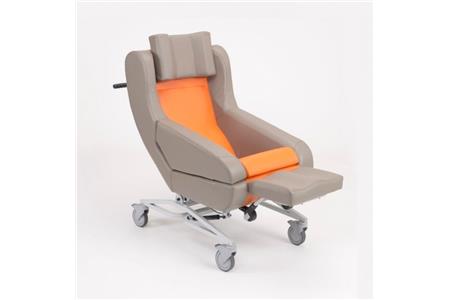 Lounge chairs and easy chairs (ISO 18.09.15)
Armchairs (SIVA 18.09.15.S01)
Record number: 20457
Last update: May 2016
Brand: ELMI
Model: CULLA BALANCE TRANSFER INDOOR
Available sizes:
CAPACITY / RANGE
Lifting capacity (kg): 150.
OVERALL DIMENSIONS
Length (cm): 83.
Weight (kg): 38.
Width (cm): 60.
SEAT DIMENSIONS / ANGLES
Seat Back Height (cm): 76.
Seat Depth (cm): 30.
Seat Height (cm): 76.
Seat Width (cm): 40.
Description:
Cradle Balance Transfer has a detachable and adjustable headrests. The footrest has an ergonomic shape. The detachable armrest, allows for lateral patient transfer.

Italian provinces with self-declared local suppliers:

ALESSANDRIA
BOTTEGA DI ORTOPEDIA SANITHOSPITAL
Via F.lli Parodi 26/f - 15033 CASALE MONFERRATO (ALESSANDRIA) ITALY Phone: +39-0142455194 Fax: +39-0142457426 E-mail: info@bottegadiortopedia.it

ANCONA
RIZZOLI ORTOPEDIA SPA - FILIALE DI ANCONA
Via Velino 9 - Localita' Torrette - 60020 ANCONA (ANCONA) ITALY Phone: +39-071882082 Fax: +39-0712183023 E-mail: fancona@rizzoliortopedia.it

AOSTA
PARAPHARMACIA ORTOPEDIA - SEDE DI AOSTA
Via Croix de Villle, 68 - 11100 AOSTA (AOSTA) ITALY Phone: +39-016540179 Fax: +39-0165366346

BARI
RIZZOLI ORTOPEDIA SPA - FILIALE DI BARI
Via Capruzzi, 196/c - 70126 BARI (BARI) ITALY Phone: +39-0805428272 Fax: +39-0805425248 E-mail: fbari@rizzoliortopedia.it

BERGAMO
MEDIA REHA - BERGAMO
Viale Kennedy, 15/C - 24066 PEDRENGO (BERGAMO) ITALY Phone: +39-035668555 Fax: +39-035657755 E-mail: bergamo@mediareha.it Website: http://www.mediareha.it

BOLOGNA
ORTOPEDIA ASOR SANITARI SNC
Via Casarini, 4/d - 40131 BOLOGNA (BOLOGNA) ITALY Phone: +39-051556409 Fax: +39-051553845 E-mail: info@asor.com Website: http://www.asor.com
RIZZOLI ORTOPEDIA SPA - FILIALE DI BOLOGNA
Via Paolo Fabbri 106/a - 40138 BOLOGNA (BOLOGNA) ITALY Phone: +39-0516392250 Fax: +39-0516392255 E-mail: fbologna@rizzoliortopedia.it
SANITARIA S. ORSOLA SRL
Via Massarenti, 70/E - 40138 BOLOGNA (BOLOGNA) ITALY Phone: +39-051349912 Fax: +39-051345748 E-mail: info@leortopedie.com Website: http://www.sanitariasantorsola.com

BOLZANO
ELMI-REHA S.R.L.
Zona Artigianale, 25 - 39052 CALDARO (BOLZANO) ITALY Phone: +39-0471961002 Fax: +39-0471962374 E-mail: h.harb@elmi-reha.it Website: http://www.elmi-reha.it
ORTOPEDIA MAX VON ZIEGLAUER
Via Hofer, 15/A - 39031 BRUNICO (BOLZANO) ITALY Phone: +39-0474553435 Fax: +39-0474553436 E-mail: info@zieglauer.it
SANIT SERVICE S.R.L.
Via Piacenza 29/a - 39100 BOLZANO (BOLZANO) ITALY Phone: +39-0471201530 Fax: +39-0471203126 E-mail: sanitservice@rizzoliortopedia.it

BRESCIA
RIZZOLI ORTOPEDIA SPA - FILIALE DI BRESCIA
Via San Bartolomeo, 17 - 25100 BRESCIA (BRESCIA) ITALY Phone: +39-0303385024 Fax: +39-0303391021 E-mail: fbrescia@rizzoliortopedia.it

CAGLIARI
OFFICINE ORTOPEDICHE DR. AMEDEO INCERPI SRL
Via Simeto, 13 - 09122 CAGLIARI (CAGLIARI) ITALY Phone: +39-070281814; +39-070281816 Fax: +39-070288140 E-mail: posta@ortopediaincerpi.it Website: http://www.ortopediaincerpi.it
ORTOPEDIA SITOR SRL
Via Mandrolisai, 15 - 09121 CAGLIARI (CAGLIARI) ITALY Phone: +39-070288948 Fax: +39-070284006 E-mail: commerciale@sitor.it

CASERTA
RIZZOLI ORTOPEDIA SPA - FILIALE DI CASERTA
Via San Di Nardo - Palazzo Delta - 81100 CASERTA (CASERTA) ITALY Phone: +39-0823304019 Fax: +39-0823303840 E-mail: fcaserta@rizzoliortopedia.it

CATANIA
ORTOPEDIA SICILIA S.R.L.
Viale Regina Margherita, 37/A - 95124 CATANIA (CATANIA) ITALY Phone: +39-0957159931 Fax: +39-095310875 E-mail: ortopediasicilia@rizzoliortopedia.it

COMO
MEDIA REHA - COMO
Via Leone Leoni, 18/A - 22100 COMO (COMO) ITALY Phone: +39-031526723 Fax: +39-0315003728 E-mail: como@mediareha.it Website: http://www.mediareha.it

COSENZA
PRIMAVERA ORTOPEDIA SRL
Via Galvani, 2 - 87036 RENDE (COSENZA) ITALY Phone: +39-0984404275 Fax: +39-0984404275 E-mail: primaveraortopedia@tin.it

FORLI-CESENA
ADJUTOR SRL
Via Roma, 26 - 47034 FORLIMPOPOLI (FORLI-CESENA) ITALY Phone: +39-0543 745300 Fax: +39-0543 744941 E-mail: adjutor@adjutor.it Website: http://www.adjutor.it
ADJUTOR SRL - SANITARIA ORTOPEDIA - FILIALE DI FORLÌ
Viale Vespucci 55A - 47100 FORLI (FORLI-CESENA) ITALY Phone: +39-0543796420 E-mail: adjutor@adjutor.it Website: http://www.adjutor.it
ORTOPEDIA SANITARIA SCOZZOLI
Via Pedriali, 22 - 47100 FORLI (FORLI-CESENA) ITALY Phone: +39-054325510
RIZZOLI ORTOPEDIA SPA - FILIALE DI CESENA
Via Fiorenzuola, 1122 - 47023 CESENA (FORLI-CESENA) ITALY Phone: +39-0547304477 Fax: +39-0547301628 E-mail: fcesena@rizzoliortopedia.it

GENOVA
C. & S. COPELLO & SANGUINETI - CHIAVARI
Corso Assarotti, 5 - 16043 CHIAVARI (GENOVA) ITALY Phone: +39-0185300652 Fax: +39-0185362606 E-mail: info@copellosanguineti.it Website: http://www.copellosanguineti.it
LA RIMESSA
Via Tripoli, 12/R - 16143 GENOVA (GENOVA) ITALY Phone: +39-0105299866; +39-800817665 Fax: +39-0105299858 E-mail: info@larimessa.net Website: http://www.larimessa.net/
RIZZOLI ORTOPEDIA SPA - FILIALE DI GENOVA
Corso Saffi, 1/1 - 16128 GENOVA (GENOVA) ITALY Phone: +39-010581051 Fax: +39-010581115 E-mail: fgenova@rizzoliortopedia.it
SANIGENICA SRL
Via Cornigliano, 89 Rosso - 16152 GENOVA (GENOVA) ITALY Phone: +39-0106043363; 0106512973 Fax: +39-0106043363 E-mail: sanigenica@libero.it

IMPERIA
OFFICINA ORTOPEDICA SANREMESE SAS
Via N. Bixio, 25/27 - 18038 SANREMO (IMPERIA) ITALY Phone: +39-0184535047 Fax: +39-0184535233 E-mail: info@ortopedia-sanremese.com Website: http://www.ortopedia-sanremese.com

LECCE
RIZZOLI ORTOPEDIA SPA - FILIALE DI LECCE
Via 95° Reggimento Fanteria, 93/95 - 73100 LECCE (LECCE) ITALY Phone: +39-0832349218 Fax: +39-0832343218 E-mail: flecce@rizzoliortopedia.it

MANTOVA
ORTOPEDIA GUADAGNI DI MARCELLO FANTI E C. S.A.S.
Viale Gorizia, 17/A - 46100 MANTOVA (MANTOVA) ITALY Phone: +39-0376322230 Fax: +39-0376226532 E-mail: info@guadagni.it Website: http://www.guadagni.it

MILANO
LA CARROZZINERIA S.R.L
Via Tosi, 11/a - 20143 MILANO (MILANO) ITALY Phone: +39-028136936; 02-8911075 Fax: +39-0289151267 E-mail: info@lacarrozzineria.it Website: http://www.lacarrozzineria.it
MEDIA REHA - MILANO
Via dei Canzi, 20 - 20134 MILANO (MILANO) ITALY Phone: +39-0221597438 Fax: +39-0221592084 E-mail: milano@mediareha.it Website: http://www.mediareha.it
ORTOPEDIA BELLUSCO DI ALDO SEMONELLA
Via Bergamo, 35 - 20040 BELLUSCO (MILANO) ITALY Phone: +39-0396022719
RIZZOLI ORTOPEDIA SPA - FILIALE DI MILANO
Via G. Murat, 15 - 20159 MILANO (MILANO) ITALY Phone: +39-0269018077 Fax: +39-0269311496 E-mail: fmilano@rizzoliortopedia.it Website: http://www.rizzoliortopedia.com
RIZZOLI ORTOPEDIA SPA - FILIALE DI MONZA
Via Monte Cervino, 4 - 2052 MONZA (MILANO) ITALY Phone: +39-039734885 Fax: +39-039734885 E-mail: fmonza@rizzoliortopedia.it

NAPOLI
ORTOPEDIA RUGGIERO SRL
Via Isaac Rabin, 6 - 80024 CARDITO (NAPOLI) ITALY Phone: 0818317676 Fax: 0818363934 E-mail: info@ortopediaruggiero.it Website: http://www.ortopediaruggiero.it
RIZZOLI ORTOPEDIA SPA - FILIALE DI NAPOLI
Via Pansini, 5 - Nuovo Policlinico - 80131 NAPOLI (NAPOLI) ITALY Phone: +39-0817462858 Fax: +39-0815456284 E-mail: fnapoli@rizzoliortopedia.it

NOVARA
CENTRO ORTOPEDICO DI BORGOMANERO SNC
Viale Kennedy, 40 - 28021 BORGOMANERO (NOVARA) ITALY Phone: +39-0322844454 Fax: +39-0322836330 E-mail: ortopedia@ausili.com Website: http://www.ortopediaweb.com

PADOVA
GOMIERO OFFICINA ORTOPEDICA S.R.L.
Via Falloppio, 57 - 35121 PADOVA (PADOVA) ITALY Phone: +39-0498225111 Fax: +39-0498225151 E-mail: acquisti@gomiero.com Website: http://www.gomiero.com
ORTOPEDIA ANTONIANA SRL
Via Bembo, 144 - 35124 PADOVA (PADOVA) ITALY Phone: +39-049657733 Fax: +39-049684566 E-mail: info@antoniana.com Website: http://www.antoniana.com

PALERMO
ORTOPEDIA UGO SAVAZZINI
Via Principe Di Paternò, 23 - 90144 PALERMO (PALERMO) ITALY Phone: +39-0915509416 E-mail: ortopediasavazzini@libero.it

PARMA
ORTOPEDIA DOTT. MAZZUCCHELLI PCR GROUP SRL
STR. ABBEVERATOIA, 61/C - 43126 PARMA (PARMA) ITALY Phone: +39-05211560622 Fax: +39-05211560623 E-mail: dr.mazzucchelli@pcrgroup.it Website: http://www.ortopediadrmazzucchelli.com

PAVIA
COV SRL CENTRO ORTOPEDICO VIGEVANESE
Via Leonardo Da Vinci, 20 - 27029 VIGEVANO (PAVIA) ITALY Phone: +39-038171340; +39-038174720 Fax: +39-038174187 E-mail: info@cov.it Website: http://www.cov.it

PESCARA
RIZZOLI ORTOPEDIA SPA - FILIALE DI PESCARA
Via Gobetti, 124 - 65100 PESCARA (PESCARA) ITALY Phone: +39-0854213446 Fax: +39-0854213446 E-mail: fpescara@rizzoliortopedia.it

PORDENONE
ORTOPEDIA PORZIO SRL - FILIALE PORDENONE
Via Cavallotti Felice, 8 - 33170 PORDENONE (PORDENONE) ITALY Phone: +39-0434522970 E-mail: info@ortopediaporzio.it

RAVENNA
ADJUTOR SRL - SANITARIA ORTOPEDIA AUSILI - FILIALE DI RAVENNA
Viale E. Berlinguer, 48 - 48100 RAVENNA (RAVENNA) ITALY Phone: +39-0544407930 E-mail: ravenna@adjutor.it Website: http://www.adjutor.it

REGGIO EMILIA
GALILEO SRL
Via Togliatti, 42 - 42020 MONTECAVOLO (REGGIO EMILIA) ITALY Phone: +39-0522391923 E-mail: ioric@progettiamoautonomia.it Website: http://www.galileoausili.it
ORTOPEDIA OLIVI S.A.S.
Via Emilia Ospizio, 18 - 42100 REGGIO EMILIA (REGGIO EMILIA) ITALY Phone: +39-0522308322 Fax: +39-0522442328 E-mail: ortope16@oliviortopedia.191.it
SANITARIA ARIOSTO
Via Ludovico Ariosto, 26 - 42100 REGGIO EMILIA (REGGIO EMILIA) ITALY Phone: +39-0522432249 Fax: +39-0522436546 E-mail: info@progettiamoautonomia.it

RIMINI
ADJUTOR SRL - SANITARIA ORTOPEDIA AUSILI - FILIALE DI RIMINI
Via Circonvalazione Occidentale, 100 - 47900 RIMINI (RIMINI) ITALY Phone: +39-0541789035 E-mail: rimini@adjutor.it Website: http://www.adjutor.it

ROMA
AUTONOMI SRL A SOCIO UNICO
Via Clemente VII, 12 - 00167 ROMA (ROMA) ITALY Phone: +39-0666032457 Fax: +39-0666019128 E-mail: info@autonomi.it Website: http://www.autonomi.it
CARAVAGGIO 70 SRL
Via G. Antamoro, 73/75/77 - 00139 ROMA (ROMA) ITALY Phone: +39-0687201604 Fax: +39-0687201604 E-mail: caravaggio70@virgilio.it
L'ERGONOMICA SRL
via Gian Leonardo Ceruso, 20 - 00147 ROMA (ROMA) ITALY Phone: +39-3801967377 Fax: 0683391302 E-mail: info@lergonomica.it Website: http://www.lergonomica.it
RIZZOLI ORTOPEDIA SPA - FILIALE DI ROMA
Circonvallazione Gianicolense, 35/39/C - 00152 ROMA (ROMA) ITALY Phone: +39-065884286 Fax: +39-065884312 E-mail: froma@rizzoliortopedia.it

SALERNO
D'ASCOLI ORTOPEDIA SRL
Lungomare Cristoforo Colombo - Polo Nautico - 84100 SALERNO (SALERNO) ITALY Phone: +39-089759857 Fax: +39-089759857 E-mail: info@dascoliortopedia.com
RIZZOLI ORTOPEDIA SPA - FILIALE DI SALERNO 1
Via Mauri, 36/A - 84100 SALERNO (SALERNO) ITALY Phone: +39-089338296 Fax: +39-089339028 E-mail: psalerno@rizzoliortopedia.it
RIZZOLI ORTOPEDIA SPA - FILIALE DI SALERNO 2
Via Trento, 64/B - 84100 SALERNO (SALERNO) ITALY Phone: +39-089338296 Fax: +39-089339028 E-mail: fsalerno@rizzoliortopedia.it

TARANTO
RIZZOLI ORTOPEDIA SPA - FILIALE DI TARANTO
Via Lago Trasimeno, 2/2 - 74100 TARANTO (TARANTO) ITALY Phone: +39-0997729018 Fax: +39-0997729018 E-mail: ftaranto@rizzoliortopedia.it

TORINO
CRIS SRL
Via Elvo, 25 - 10155 TORINO (TORINO) ITALY Phone: +39-011852054 Fax: +39-011858176 E-mail: info@ortopediacris.it;livia@ortopediacris.it Website: http://www.ortopediacris.it
OFFICINA ORTOPEDICA ZUMAGLINI
Via Jonio, 5 - 10128 TORINO (TORINO) ITALY Phone: +39-0115818864 Fax: +39-0115681796 E-mail: info@zumaglini.it
ORTHOSANIT
Corso Monte Grappa 50 - TORINO (TORINO) ITALY E-mail: orthosanit@orthosanit.it
ORTOPEDIA NUOVA BATTISTONI SRL
Via Giordano Bruno, 191/F - 10134 TORINO (TORINO) ITALY Phone: +39-0116610822 Fax: +39-0116618331 E-mail: info@ortopediabattistoni.com
PARAPHARMACIA ORTOPEDIA - SEDE DI RIVAROLO CANAVESE
Corso Torino, 75 - 10086 RIVAROLO CANAVESE (TORINO) ITALY Phone: +39-012428077 Fax: +39-0124420637 E-mail: rivarolo@laparapharmacia.com Website: http://www.laparapharmacia.com

TRENTO
ATTREZZATURE MEDICO SANITARIE SRL
Via De Gasperi, 34/3 - 38100 TRENTO (TRENTO) ITALY Phone: +39-0461391057:0461925715 Fax: +39-0461923500 E-mail: centro.ausili@amstrento.it Website: http://www.amstrento.it
UNIFARM SPA HOME CARE
Via Provina, 3 - 38040 RAVINA (TRENTO) ITALY Phone: +39-0461901111 Fax: +39-0461901240 E-mail: p.carbone@unifarm.it Website: http://www.unifarm.it

TREVISO
3G ORTOPEDIA SANITARIA
Viale della Vittoria, 236 - 31029 VITTORIO VENETO (TREVISO) ITALY Phone: +39-0438550492 Fax: +39-0438553101 E-mail: info@ortopedia3g.it Website: http://www.ortopedia3g.it

TRIESTE
ORTOPEDIA PORZIO SRL - FILIALE TRIESTE
Piazza dell'Ospitale, 7 - 34129 TRIESTE (TRIESTE) ITALY Phone: +39-040772180 E-mail: info@ortopediaporzio.it
RIZZOLI ORTOPEDIA SPA - FILIALE DI TRIESTE
Via Vasari, 15 - 34131 TRIESTE (TRIESTE) ITALY Phone: +39-0407606511 Fax: +39-0407606511 E-mail: ftrieste@rizzoliortopedia.it

UDINE
ORTOPEDIA PORZIO SRL - FILIALE CERVIGNANO
Via XXIV Maggio, 23 - 33052 CERVIGNANO DEL FRIULI (UDINE) ITALY Phone: +39-043130805 E-mail: info@ortopediaporzio.it
ORTOPEDIA PORZIO SRL - FILIALE CODROIPO
Piazza Garibaldi, 98 - 33033 CODROIPO (UDINE) ITALY Phone: +39-0432904257 E-mail: info@ortopediaporzio.it
ORTOPEDIA PORZIO SRL - FILIALE LATISANA
Via Sottopovolo, 63 - 33053 LATISANA (UDINE) ITALY Phone: +39-043150362 E-mail: info@ortopediaporzio.it
ORTOPEDIA PORZIO SRL - SEDE UDINE
Via Aquileia, 58 - 33100 UDINE (UDINE) ITALY Phone: +39-0432505214 Fax: +39-0432511218 E-mail: info@ortopediaporzio.it

VARESE
MEDIA REHA - LONATE POZZOLO
Viale Ticino, 85 - 21015 LONATE POZZOLO (VARESE) ITALY Phone: +39-0331301699 Fax: +39-0331661777 E-mail: lonate@mediareha.it Website: http://www.mediareha.it

VENEZIA
ORTOPEDIA PIAVE DI TIRELLI SERGIO
Via Nazario Sauro, 160 - 30027 SAN DONA' DI PIAVE (VENEZIA) ITALY Phone: +39-0421220570 Fax: +39-0421220570 E-mail: info@ortopediapiave.it

VERONA
ORTHOMEDICA S.N.C.
Stradone Santa Lucia, 39/L - 37136 VERONA (VERONA) ITALY Phone: +39-0458200444 Fax: +39-0458200855 E-mail: verona@orthomedica.it
ORTOPEDICA SCALIGERA SRL
Via Liguria, 72 - 37060 LUGAGNANO DI SONA (VERONA) ITALY Phone: +39-0456090290 Fax: +39-045566307 E-mail: info@ortopedicascaligera.it Website: http://www.ortopedicascaligera.it