TOBII DYNAVOX TOUCH - SR LABS - I-110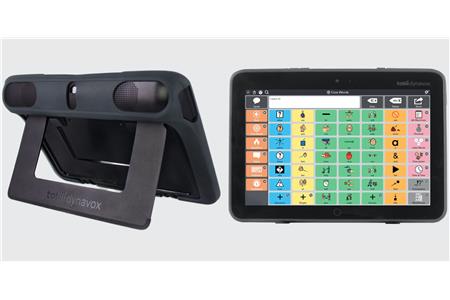 Dialogue units (ISO 22.21.09)
Dynamic display communication devices (SIVA 22.21.09.S03)
Record number: 20987
Last update: February 2020
Brand: TOBII DYNAVOX TOUCH - SR LABS
Model: I-110
Children's version available
Technical details:
CONNECTIVITY
Usb.
ENERGY TYPE
Battery - rechargeable; Mains electric.
FUNCTIONALITIES
Switch controlled scanning; Word prediction/completion.
LANGUAGES
English; Italian.
LINGUISTIC REPRESENTATIONS
Alphabetic; Symbolic.
OUTPUT DEVICES/SOFTWARE
Audio file or sound/speech recorded; Screen; Voice synthesis.

Description:
Dynamic communicator for augmentative communication alternative to tactile control (tablet for communication). Includes software: - Snap + Core First, - Tobii Communicator 5, - Snap Scene. Ultra-resistant design with Gorilla Glass, integrated speakers, integrated infrared remote control, long battery life and covered doors. Degree of protection IP54 (resistance to liquids and dust).