TGR - EXPLORER (FUORI PRODUZIONE)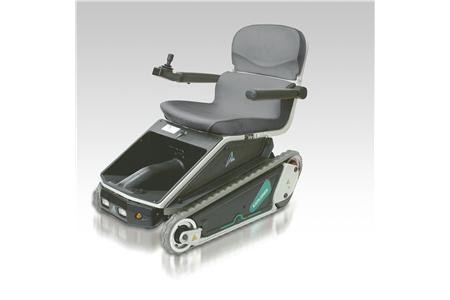 Powered stair-climbing transporters (ISO 12.17.03)
Stairclimbers (SIVA 12.17.03.S01)
Record number: 5185
Last update: January 2015
Brand: TGR
Model: EXPLORER (FUORI PRODUZIONE)
Technical details:
AUTONOMY
up to 1 day.
ENERGY TYPE
Battery - rechargeable.
STORAGE - TRANSPORT
Mobile/Tracked; Mobile/Wheeled.

Available sizes:
CAPACITY / RANGE
Lifting capacity (kg): 80.
Power (watt): 300.
ENVIRONMENT / ACCESS DIMENSIONS
Max. Gradient / Slope (%): 33.
OVERALL DIMENSIONS
Height (cm): 93.
Length (cm): 113.
Weight (kg): 118.
Width (cm): 63.
SEAT DIMENSIONS / ANGLES
Seat Back Height (cm): 93.
Seat Depth (cm): 48.
Seat Height (cm): 50.
Seat Width (cm): 48.
Description:
It is formed by a seat at automatic changing inclination that surmounts a track. It can be used even by the disabled person alone. In flat position it is possible to pull out three wheels, one of which with the engine, so that it can work as an electrical wheelchair.

Italian provinces with self-declared local suppliers:

ALESSANDRIA
BOTTEGA DI ORTOPEDIA SANITHOSPITAL
Via F.lli Parodi 26/f - 15033 CASALE MONFERRATO (ALESSANDRIA) ITALY Phone: +39-0142455194 Fax: +39-0142457426 E-mail: info@bottegadiortopedia.it

ANCONA
MAPIS SRL
Via Bruno Buozzi, 37 - 60044 FABRIANO (ANCONA) ITALY Phone: +39-0732629588; 073221224 Fax: +39-0732226588 E-mail: mapis@mapis.it Website: http://www.mapis.it; www.gruppoplus.it
RIZZOLI ORTOPEDIA SPA - FILIALE DI ANCONA
Via Velino 9 - Localita' Torrette - 60020 ANCONA (ANCONA) ITALY Phone: +39-071882082 Fax: +39-0712183023 E-mail: fancona@rizzoliortopedia.it

AOSTA
PARAPHARMACIA ORTOPEDIA - SEDE DI AOSTA
Via Croix de Villle, 68 - 11100 AOSTA (AOSTA) ITALY Phone: +39-016540179 Fax: +39-0165366346

BARI
ORTOPEDIA DE CICCO SRL
Via Sant'Andrea, 172 - 70052 BISCEGLIE (BARI) ITALY Phone: +39-0803958030 Fax: +39-0803958031 E-mail: segreteria@ortopediadecicco.it Website: http://www.ortopediadecicco.it
RIZZOLI ORTOPEDIA SPA - FILIALE DI BARI
Via Capruzzi, 196/c - 70126 BARI (BARI) ITALY Phone: +39-0805428272 Fax: +39-0805425248 E-mail: fbari@rizzoliortopedia.it
VALENTINI
Via Beatillo, 41 - 70121 BARI (BARI) ITALY Phone: +39-0805211278 Fax: +39-0805245234 E-mail: valentinibari@libero.it

BENEVENTO
NUOVA ORTOPEDIA SANNITICA S.R.L.
via Ferrari 25/A - PAOLISI (BENEVENTO) ITALY Phone: +39-0823950368;0823950710 Fax: +39-0823951646 E-mail: nortsan@tin.it

BERGAMO
CARLO BIANCHI SNC
Via Masone, 1 - 24100 BERGAMO (BERGAMO) ITALY Phone: +39-035244261 Fax: +39-035239366 E-mail: giulio.gargano@bisnet.it Website: http://www.bisnet.it/cb
FASA SRL
Via Ambrogio da Calepio, 16 - 24125 BERGAMO (BERGAMO) ITALY Phone: +39-035247526 Fax: +39-035220229 E-mail: fasamed@libero.it
FOCHIS SRL
Via Buttaro, 2 - 24044 DALMINE (BERGAMO) ITALY Phone: +39-035561294 Fax: +39-035561294
MEDIA REHA - BERGAMO
Viale Kennedy, 15/C - 24066 PEDRENGO (BERGAMO) ITALY Phone: +39-035668555 Fax: +39-035657755 E-mail: bergamo@mediareha.it Website: http://www.mediareha.it
ORTOPEDIA GAVARDINI RAPETTI SNC
Via Camozzi, 120 - 24121 BERGAMO (BERGAMO) ITALY Phone: +39-035238233 Fax: +39-035238233 E-mail: ortopediagavardini@tiscali.it Website: http://www.ortopediagavardinirapetti.com

BOLOGNA
ORTOPEDIA ASOR SANITARI SNC
Via Casarini, 4/d - 40131 BOLOGNA (BOLOGNA) ITALY Phone: +39-051556409 Fax: +39-051553845 E-mail: info@asor.com Website: http://www.asor.com
RIZZOLI ORTOPEDIA SPA - FILIALE DI BOLOGNA
Via Paolo Fabbri 106/a - 40138 BOLOGNA (BOLOGNA) ITALY Phone: +39-0516392250 Fax: +39-0516392255 E-mail: fbologna@rizzoliortopedia.it
SANITARIA S. ORSOLA SRL
Via Massarenti, 70/E - 40138 BOLOGNA (BOLOGNA) ITALY Phone: +39-051349912 Fax: +39-051345748 E-mail: info@leortopedie.com Website: http://www.sanitariasantorsola.com
TGR SRL
Via Lombardia, 12 - 40064 OZZANO EMILIA (BOLOGNA) ITALY Phone: +39-0516523511 Fax: +39-051798238 E-mail: tgr@tgr.it Website: http://www.tgr.it

BOLZANO
ORTOPEDIA MAX VON ZIEGLAUER
Via Hofer, 15/A - 39031 BRUNICO (BOLZANO) ITALY Phone: +39-0474553435 Fax: +39-0474553436 E-mail: info@zieglauer.it
SANIT SERVICE S.R.L.
Via Piacenza 29/a - 39100 BOLZANO (BOLZANO) ITALY Phone: +39-0471201530 Fax: +39-0471203126 E-mail: sanitservice@rizzoliortopedia.it

BRESCIA
ORTOPEDIA FORESTI SRL - FILIALE DI BRESCIA
Via Montello, 55 - 25128 BRESCIA (BRESCIA) ITALY Phone: +39-0303385010 Fax: 0303099515 E-mail: ortopediaforesti@virgilio.it
ORTOPEDIA FORESTI SRL - FILIALE DI ESINE
Via Faede, 38 - 25040 ESINE (BRESCIA) ITALY Phone: +39-0364466849 Fax: +39-0364466849
ORTOPEDIA FORESTI SRL - FILIALE ISEO
Via Pusterla, 14 - 25049 ISEO (BRESCIA) ITALY Phone: +39-030980371 Fax: 0300943211 E-mail: iseo@ortopediaforesti.it
ORTOPEDIA RIMONDI DI ROBERTO MIOTTO & C SNC
Via Fura, 27 - 25125 BRESCIA (BRESCIA) ITALY Phone: +39-030349477 Fax: +39-0303544490 E-mail: ortori@ortopediarimondi.it
RIZZOLI ORTOPEDIA SPA - FILIALE DI BRESCIA
Via San Bartolomeo, 17 - 25100 BRESCIA (BRESCIA) ITALY Phone: +39-0303385024 Fax: +39-0303391021 E-mail: fbrescia@rizzoliortopedia.it

CAGLIARI
OFFICINE ORTOPEDICHE DR. AMEDEO INCERPI SRL
Via Simeto, 13 - 09122 CAGLIARI (CAGLIARI) ITALY Phone: +39-070281814; +39-070281816 Fax: +39-070288140 E-mail: posta@ortopediaincerpi.it Website: http://www.ortopediaincerpi.it

CASERTA
RIZZOLI ORTOPEDIA SPA - FILIALE DI CASERTA
Via San Di Nardo - Palazzo Delta - 81100 CASERTA (CASERTA) ITALY Phone: +39-0823304019 Fax: +39-0823303840 E-mail: fcaserta@rizzoliortopedia.it

CATANIA
OFFICINA TECNICA ORTOPEDICA CATANESE SRL
Via Androne, 66/70 - 95124 CATANIA (CATANIA) ITALY Phone: +39-095316914 Fax: +39-095317203 E-mail: informa@ortopediacatanese.it Website: http://www.ortopediacatanese.it
ORTOPEDIA SICILIA S.R.L.
Viale Regina Margherita, 37/A - 95124 CATANIA (CATANIA) ITALY Phone: +39-0957159931 Fax: +39-095310875 E-mail: ortopediasicilia@rizzoliortopedia.it

COMO
ATTILIO SOMMARUGA ORTOPEDIA
Via Vittorio Emanuele II, 39 - 22100 COMO (COMO) ITALY Phone: +39-031263243 Fax: +39-031263243 E-mail: ufficio@ortopediasommaruga.it
MEDIA REHA - COMO
Via Leone Leoni, 18/A - 22100 COMO (COMO) ITALY Phone: +39-031526723 Fax: +39-0315003728 E-mail: como@mediareha.it Website: http://www.mediareha.it
ORTOPEDIA C.T.R DI GALETTI ADRIANA E C SNC
Via Battisti, 7 - 22036 ERBA (COMO) ITALY Phone: +39-031644086
ORTOPEDIA PIRAS
Via Fossano, 70 - 22063 CANTU (COMO) ITALY Phone: +39-031731980 Fax: +39-031731980

COSENZA
CENTRO ORTOPEDICO MERIDIONALE SRL
11ma Strada Torre Alta Inferiore, 67/83 - 87100 COSENZA (COSENZA) ITALY Phone: +39-098438083 Fax: +39-0984481980 E-mail: carmelocolonna@tin.it

CREMONA
SANITAS SRL - CREMONA
Viale Po, 4 - 26100 CREMONA (CREMONA) ITALY Phone: +39-0372461884 Fax: +39-0372565849

FIRENZE
GUALTIERI CENTER ORTOPEDIA
Via Alderotti , 67 - 50139 FIRENZE (FIRENZE) ITALY Phone: +39-0554360386 Fax: +39-055419826 E-mail: info@gualtieri.it
ORTOPEDIA PAOLETTI
Via Scipione Ammirato, 29R - 50136 FIRENZE (FIRENZE) ITALY Phone: +39-055677007 Fax: +39-055676808 E-mail: ortopediapaoletti@libero.it Website: http://www.ortopediapaoletti.it
PROGETTIAMO AUTONOMIA FILIALE DI FIRENZE
Viale Europa, 62 - 50018 SCANDICCI (FIRENZE) ITALY Phone: +39-0550516385 Fax: +39-0550516387 E-mail: info@progettiamoautonomia.it Website: http://www.progettiamoautonomia.it
REHA ISTITUTO TECNICO ORTOPEDICO DI ZINGONI MARCO
Via della Repubblica, 59 - 50053 EMPOLI (FIRENZE) ITALY Phone: +39-057182566 Fax: +39-057180111 E-mail: marco.zingoni@reha.it Website: http://www.reha.fi

FOGGIA
ORTOPEDIA D'AVENA SNC DI D'AVENA MARIA ROSARIA & C
Via Aspromonte, 3/A - 71016 SAN SEVERO (FOGGIA) ITALY Phone: +39-0882226923 Fax: +39-0882226923 E-mail: ortopediadavena@tin.it

FORLI-CESENA
ADJUTOR SRL
Via Roma, 26 - 47034 FORLIMPOPOLI (FORLI-CESENA) ITALY Phone: +39-0543 745300 Fax: +39-0543 744941 E-mail: adjutor@adjutor.it Website: http://www.adjutor.it
ADJUTOR SRL - SANITARIA ORTOPEDIA - FILIALE DI FORLÌ
Viale Vespucci 55A - 47100 FORLI (FORLI-CESENA) ITALY Phone: +39-0543796420 E-mail: adjutor@adjutor.it Website: http://www.adjutor.it
RIZZOLI ORTOPEDIA SPA - FILIALE DI CESENA
Via Fiorenzuola, 1122 - 47023 CESENA (FORLI-CESENA) ITALY Phone: +39-0547304477 Fax: +39-0547301628 E-mail: fcesena@rizzoliortopedia.it

FROSINONE
ORTOPEDIA MODERNA SRL
Viale della Libertà, 197/199/201 - 03023 CECCANO (FROSINONE) ITALY Phone: +39-0775600586; +39-80058899 Fax: +39-0775600586 E-mail: info@ortopediamoderna.it Website: http://www.ortopediamoderna.it

GENOVA
C. & S. COPELLO & SANGUINETI - CHIAVARI
Corso Assarotti, 5 - 16043 CHIAVARI (GENOVA) ITALY Phone: +39-0185300652 Fax: +39-0185362606 E-mail: info@copellosanguineti.it Website: http://www.copellosanguineti.it
ORTOPEDIA ALLEGRETTI SRL - FILIALE DI S.FRUTTUOSO
Via Torti, 20/R - 16143 GENOVA (GENOVA) ITALY Phone: +39-010503807 E-mail: info@allegrettisrl.it Website: http://www.allegrettisrl.it
ORTOPEDIA PASTEUR - FILIALE DI SAN MARTINO
Via Lagustena, 14 - 16131 SAN MARTINO (GENOVA) ITALY Phone: +39-010357321 E-mail: pasteurorto@libero.it
RIZZOLI ORTOPEDIA SPA - FILIALE DI GENOVA
Corso Saffi, 1/1 - 16128 GENOVA (GENOVA) ITALY Phone: +39-010581051 Fax: +39-010581115 E-mail: fgenova@rizzoliortopedia.it
SANIGENICA SRL
Via Cornigliano, 89 Rosso - 16152 GENOVA (GENOVA) ITALY Phone: +39-0106043363; 0106512973 Fax: +39-0106043363 E-mail: sanigenica@libero.it

GROSSETO
SANITARIA ORTOPEDICA GROSSETANA
Via Fiume, 13/c - 58100 GROSSETO (GROSSETO) ITALY Phone: +39-056426345

IMPERIA
OFFICINA ORTOPEDICA SANREMESE SAS
Via N. Bixio, 25/27 - 18038 SANREMO (IMPERIA) ITALY Phone: +39-0184535047 Fax: +39-0184535233 E-mail: info@ortopedia-sanremese.com Website: http://www.ortopedia-sanremese.com

LATINA
ORTOPEDIA DI LETA - FILIALE DI APRILIA
Via Montello, 17 - 04011 APRILIA (LATINA) ITALY Phone: +39-0692727000 Fax: +39-0692727545 E-mail: ortopediadileta@tin.it
ORTOPEDIA DI LETA - FILIALE DI NETTUNO
Via Montello, 17 - 04011 APRILIA (LATINA) ITALY Phone: +39-0692727000 Fax: +39-0692727545 E-mail: ortopediadileta@tin.it

LECCE
RIZZOLI ORTOPEDIA SPA - FILIALE DI LECCE
Via 95° Reggimento Fanteria, 93/95 - 73100 LECCE (LECCE) ITALY Phone: +39-0832349218 Fax: +39-0832343218 E-mail: flecce@rizzoliortopedia.it

LECCO
ORTOPEDIA CASTAGNA LECCO-CENTRO TECNICO RIABILITATIVO SRL
VIA GHISLANZONI, 18/B - 23900 LECCO (LECCO) ITALY Phone: +39-0341362671 Fax: +39-0341360931 E-mail: lecco@ortopediacastagna.it Website: http://www.ortopediacastagna.it
SANITAS DI LOSA CARLO
Viale Turati, 95 - 23900 LECCO (LECCO) ITALY Phone: +39-0341285584 Fax: +39-0341285584 E-mail: sanitaslecco@hotmail.com

LIVORNO
OFFICINA ORTOPEDICA MAFFI
Via Paoli, 7 - 57100 LIVORNO (LIVORNO) ITALY Phone: +39-0586889081 Fax: +39-0586896029 E-mail: info@ortopediamaffi.it Website: http://www.ortopediamaffi.it

LUCCA
OFFICINA ORTOPEDICA MICHELOTTI
Via di Carraia, 133 - 55012 CAPANNORI (LUCCA) ITALY Phone: +39-0583980977 Fax: +39-0583984014 E-mail: centroausili@ortopediamichelotti.it

MACERATA
GEDAM SRL CENTRO AUSILI SPECIALIZZATO
Via Pergolesi, 44 - 62016 PORTO POTENZA PICENA (MACERATA) ITALY Phone: +39-0733687338 Fax: +39-0733686400 E-mail: info@newgedam.it Website: http://www.gedam.it
LABORATORIO ORTOPEDICO DI NERI MARIO E C. SRL
Via Manzoni, 31/A - 62100 MACERATA (MACERATA) ITALY Phone: +39-0733235362 Fax: +39-0733234761 E-mail: info@ortopedianeri.it

MANTOVA
ORTOPEDIA GEMELLI
Piazza Matteotti, 18 - 46035 OSTIGLIA (MANTOVA) ITALY Phone: +39-0386802349 Fax: +39-0386804294 E-mail: gemelli.ortopedia@tiscali.it
ORTOPEDIA GUADAGNI DI MARCELLO FANTI E C. S.A.S.
Viale Gorizia, 17/A - 46100 MANTOVA (MANTOVA) ITALY Phone: +39-0376322230 Fax: +39-0376226532 E-mail: info@guadagni.it Website: http://www.guadagni.it

MESSINA
ANTARES SRL
Via G. D'Annunzio, 21 - Fondachello - 98040 VALDINA (MESSINA) ITALY Phone: +39-0909222537 Fax: +39-0909222538 E-mail: paolo.antares@tiscali.it Website: http://www.antaresausili.com
ORTOPEDIA DE STEFANO SAS - FILIALE S'AGATA DI MILITELLO
Via Capuana n. 6 - 98076 S'AGATA DI MILITELLO (MESSINA) ITALY Phone: +39-0941702756 Fax: +39-0941702756 E-mail: odsdestefano@tiscali.it

MILANO
CENTRO ORTOPEDICO
Via Varesina, 5 - 20156 MILANO (MILANO) ITALY Phone: +39-0233002106 E-mail: info@centrortopedico.it Website: http://www.centrortopedico@it
LA CARROZZINERIA S.R.L
Via Tosi, 11/a - 20143 MILANO (MILANO) ITALY Phone: +39-028136936; 02-8911075 Fax: +39-0289151267 E-mail: info@lacarrozzineria.it Website: http://www.lacarrozzineria.it
MEDIA REHA - MILANO
Via dei Canzi, 20 - 20134 MILANO (MILANO) ITALY Phone: +39-0221597438 Fax: +39-0221592084 E-mail: milano@mediareha.it Website: http://www.mediareha.it
ORTOPEDIA BELLUSCO DI ALDO SEMONELLA
Via Bergamo, 35 - 20040 BELLUSCO (MILANO) ITALY Phone: +39-0396022719
ORTOPEDIA CORBETTA LUCIA SNC
Via Garibaldi, 41 - 20033 DESIO (MILANO) ITALY Phone: +39-0362638206 - 0362627042 Fax: +39-0362638206 E-mail: ortopediacorbetta@yahoo.it
ORTOPEDIA NESLER
Via Vittani, 2 (ang. De Roberto) - 20157 MILANO (MILANO) ITALY Phone: +39-023550706 Fax: +39-023550706 E-mail: ortopedia.nesler@libero.it Website: http://www.paginegialle.it/ortopedianesler
ORTOPEDIA SUBEMA SRL
Via Pergolesi, 8 - 20124 MILANO (MILANO) ITALY Phone: +39-022566083 Fax: +39-0266715116 E-mail: venturina@subema.com Website: http://www.subema.com
PIROLA COMM. FELICE SAS
Via Zucchi, 44 - 20052 MONZA (MILANO) ITALY Phone: +39-039323245 Fax: +39-039322036 E-mail: amministrazione@ortopediapirola.it Website: http://www.ortopediapirola.it
REHA LOMBARDIA S.N.C.
Viale della Repubblica,28 - 20037 PADERNO DUGNANO (MILANO) ITALY Phone: +39-0291084258 Fax: +39-0291084256 E-mail: info@rehalombardia.it Website: http://www.rehalombardia.it
RIZZOLI ORTOPEDIA SPA - FILIALE DI MILANO
Via G. Murat, 15 - 20159 MILANO (MILANO) ITALY Phone: +39-0269018077 Fax: +39-0269311496 E-mail: fmilano@rizzoliortopedia.it Website: http://www.rizzoliortopedia.com
RIZZOLI ORTOPEDIA SPA - FILIALE DI MONZA
Via Monte Cervino, 4 - 2052 MONZA (MILANO) ITALY Phone: +39-039734885 Fax: +39-039734885 E-mail: fmonza@rizzoliortopedia.it
ROLL STAR ITALIA SRL
Via Carlo Marx, 593 - 20099 SESTO SAN GIOVANNI (MILANO) ITALY Phone: +39-0226225546 Fax: +39-0226225482 E-mail: info@rollstaritalia.com Website: http://www.rollstaritalia.com
SANIGEA
Via Visconti, 31 - angolo Vicolo Santa Marta - 20093 COLOGNO MONZESE (MILANO) ITALY Phone: +39-0227306258 Fax: +39-0227306258 E-mail: giopenza@libero.it

MODENA
CENTRO ORTOPEDICO CORSINI-FILIALE DI SASSUOLO
Via Crispi, 36 - 41049 SASSUOLO (MODENA) ITALY Phone: +39-0536804078 Fax: +39-0536803657 E-mail: ortcor@tin.it
ORTOPEDIA MUSSATTI SRL
Via G. Molinari, 59 - 41012 CARPI (MODENA) ITALY Phone: +39-059685940 Fax: +39-059652482 E-mail: segreteria@ortopediamussatti.it

MONZA E BRIANZA
SAPIO LIFE S.R.L.
VIA S. PELLICO 48 - 20900 MONZA (MONZA E BRIANZA) ITALY Phone: 039 83981 Fax: 039 2026143 E-mail: sapiolife@sapio.it Website: http://www.sapiolife.it/

NAPOLI
ORTOPEDIA MERIDIONALE
Via Costantinopoli, 21 - 80138 NAPOLI (NAPOLI) ITALY Phone: +39-081440796; 800563816 Fax: +39-081440273 E-mail: szungri@ortopediameridionale.it Website: http://www.ortopediameridionale.it
ORTOPEDIA MERIDIONALE - FILIALE DI GRAGNANO
Via Vitt.Emanuele, 63 - 80054 GRAGNANO (NAPOLI) ITALY Phone: +39-0818012645 Fax: +39-0818012645 E-mail: szungri@ortopediameridionale.it Website: http://www.ortopediameridionale.it
ORTOPEDIA MERIDIONALE - FILIALE DI VOMERO
Lgo Celebrano 20-21 - 80131 VOMERO (NAPOLI) ITALY Phone: +39-0815565779 Fax: +39-0815565779 E-mail: szungri@ortopediameridionale.it Website: http://www.ortopediameridionale.it
ORTOPEDIA MERIDIONALE - FILIALE DI VOMERO
Via D'Antona 22 - 80131 NAPOLI (NAPOLI) ITALY Phone: +39-0815457186 Fax: +39-0815457186 E-mail: szungri@ortopediameridionale.it Website: http://www.ortopediameridionale.it
ORTOPEDIA MERIDIONALE- FILIALE DI ACERRA
Via F.Gioia, 15 - 80011 ACERRA (NAPOLI) ITALY Phone: +39-0818850740 Fax: +39-0818850740 E-mail: szungri@ortopediameridionale.it Website: http://www.ortopediameridionale.it
ORTOPEDIA MERIDIONALE - FILIALE DI CASTELLAMMARE DI STABIA
Via S.Allende, 29 - 80053 CASTELLAMMARE DI STABIA (NAPOLI) ITALY Phone: +39-0818717070 Fax: +39-0818717070 E-mail: szungri@ortopediameridionale.it Website: http://www.ortopediameridionale.it
ORTOPEDIA MERIDIONALE - FILIALE DI FRATTAMAGGIORE
Via Vergara, 154 - 80027 FRATTAMAGGIORE (NAPOLI) ITALY Phone: +39-0818341159 Fax: +39-0818341159 E-mail: szungri@ortopediameridionale.it Website: http://www.ortopediameridionale.it
ORTOPEDIA MERIDIONALE - FILIALE DI NOLA
Via Seminario, 16 - 80035 NOLA (NAPOLI) ITALY Phone: +39-0818239932 Fax: +39-0818239932 E-mail: szungri@ortopediameridionale.it Website: http://www.ortopediameridionale.it
ORTOPEDIA MERIDIONALE - FILIALE DI S. VESUVIANA
c/o Clinica S.M.del Pozzo Via Nuova Pomigliano - 80049 SOMMA VESUVIANA (NAPOLI) ITALY Phone: +39-0815310111 Fax: +39-0815310111 E-mail: szungri@ortopediameridionale.it Website: http://www.ortopediameridionale.it
ORTOPEDIA RUGGIERO SRL
Via Isaac Rabin, 6 - 80024 CARDITO (NAPOLI) ITALY Phone: 0818317676 Fax: 0818363934 E-mail: info@ortopediaruggiero.it Website: http://www.ortopediaruggiero.it
ORTOPEDIA TUCCI
Corso Amedeo di Savoia, 216 A - 80136 NAPOLI (NAPOLI) ITALY Phone: +39-0817418842 Fax: +39-0817445963 E-mail: tuccilucio@hotmail.com Website: http://www.ortopediatucci.it
RIZZOLI ORTOPEDIA SPA - FILIALE DI NAPOLI
Via Pansini, 5 - Nuovo Policlinico - 80131 NAPOLI (NAPOLI) ITALY Phone: +39-0817462858 Fax: +39-0815456284 E-mail: fnapoli@rizzoliortopedia.it

NOVARA
CENTRO NOVASANITAS DI STEFANIA BERTOLI
Vial Zoppis 25 - 28021 BORGOMANERO (NOVARA) ITALY Phone: +39-0322845793

OLBIA-TEMPIO
BAZZONI ORTHOTECNICA
Zona industriale sett. z - 07026 OLBIA (OLBIA-TEMPIO) ITALY Phone: +39-078953040 Fax: +39-078953071 E-mail: info@ortopediabazzoni.it

PADOVA
GOMIERO OFFICINA ORTOPEDICA S.R.L.
Via Falloppio, 57 - 35121 PADOVA (PADOVA) ITALY Phone: +39-0498225111 Fax: +39-0498225151 E-mail: acquisti@gomiero.com Website: http://www.gomiero.com

PALERMO
CENTRO ORTOPEDICO MILO
Viale Juvaria, 16/18 - 90138 PALERMO (PALERMO) ITALY Phone: +39-091328729 Fax: +39-0916120505 E-mail: mi.lo@iol.it
ORTOPEDIA C.O.A.M. - FILIALE DI VILLABATE
Corso Vittorio Emanuele, 6 - 90039 VILLABATE (PALERMO) ITALY Phone: +39-0916141931 Fax: +39-0916141033 E-mail: info@ortopediacoam.it Website: http://www.ortopediacoam.it
ORTOPEDIA C.O.A.M. DI VARRICA VINCENZO & C. S.A.S. - SEDE DI PALERMO
Via Malaspina, 57/63 - 90145 PALERMO (PALERMO) ITALY Phone: +39-0916260114 - 0916254078 Fax: +39-0917828082 E-mail: info@ortopediacoam.it Website: http://www.ortopediacoam.it

PARMA
ORTOPEDIA DOTT. MAZZUCCHELLI PCR GROUP SRL
STR. ABBEVERATOIA, 61/C - 43126 PARMA (PARMA) ITALY Phone: +39-05211560622 Fax: +39-05211560623 E-mail: dr.mazzucchelli@pcrgroup.it Website: http://www.ortopediadrmazzucchelli.com
ORTOPEDIA GUALERZI
Via Berenini, 70/b - 43036 FIDENZA (PARMA) ITALY Phone: +39-0524523427 Fax: +39-0524-84532 E-mail: info@gualerzi.com Website: http://www.gualerzi.com
SANITAS SRL - FIDENZA
Via Borghesi, 2 - 43036 FIDENZA (PARMA) ITALY Phone: +39-0524527721 Fax: +39-0524527721 E-mail: sanitas.fiorenzuola@libero.it
SANITAS SRL - FORNOVO
Via Roma, 1 - 43036 FORNOVO DI TARO (PARMA) ITALY Phone: +39-0525401143 Fax: +39-0525401143 E-mail: sanitas.fiorenzuola@libero.it

PERUGIA
BUONUMORI SRL ORTOPEDIA MEDICURA
Via San Bartolomeo, 45 - 06087 PONTE SAN GIOVANNI (PERUGIA) ITALY Phone: +39-075396332 Fax: +39-075396331 E-mail: info@ortopediabuonumori.com Website: http://www.ortopediabuonumori.com/

PESCARA
RIZZOLI ORTOPEDIA SPA - FILIALE DI PESCARA
Via Gobetti, 124 - 65100 PESCARA (PESCARA) ITALY Phone: +39-0854213446 Fax: +39-0854213446 E-mail: fpescara@rizzoliortopedia.it

PIACENZA
SANITAS SRL - FIORENZUOLA
Via Roma, 29 - 29017 FIORENZUOLA D'ARDA (PIACENZA) ITALY Phone: +39-0523942348 Fax: +39-0523942348 E-mail: sanitas.fiorenzuola@libero.it

PORDENONE
ORTOPEDIA PORZIO SRL - FILIALE PORDENONE
Via Cavallotti Felice, 8 - 33170 PORDENONE (PORDENONE) ITALY Phone: +39-0434522970 E-mail: info@ortopediaporzio.it

POTENZA
OFFICINE ORTOPEDICHE TOMBOLINI SNC
Via Livorno, 116-119 - 85100 POTENZA (POTENZA) ITALY Phone: +39-0971443235 Fax: +39-0971443235 E-mail: off.ort.tombolini@libero.it Website: http://www.tomboliniortopedia.com

PRATO
SANITAL ORTOPEDIA
Via Garibaldi, 116/118 - 50047 PRATO (PRATO) ITALY Phone: +39-057425362 Fax: +39-057425362 E-mail: sanital2@virgilio.it

RAVENNA
ADJUTOR SRL - SANITARIA ORTOPEDIA AUSILI - FILIALE DI RAVENNA
Viale E. Berlinguer, 48 - 48100 RAVENNA (RAVENNA) ITALY Phone: +39-0544407930 E-mail: ravenna@adjutor.it Website: http://www.adjutor.it
RAIA ORTOPEDIA RAVENNA
Viale Randi, 30 - 48100 RAVENNA (RAVENNA) ITALY Phone: +39-0544403476 E-mail: ortopedia@ortoprotesi.com Website: https://www.sanitaria-ortoprotesi.com/
SANITARIA MORETTI DI MORETTI SUSANNA & C - SEDE
Corso Mazzini, 195/12 - 48018 FAENZA (RAVENNA) ITALY Phone: +39-0546682144 E-mail: info@sanitariamoretti.com Website: http://www.sanitariamoretti.com/
SANITARIA MORETTI DI MORETTI SUSANNA & C. FILIALE
Corso Matteotti, 90 - 48018 FAENZA (RAVENNA) ITALY Phone: +39-054628875 Fax: +39-054628875 E-mail: info@sanitariamoretti.com Website: http://www.sanitariamoretti.com

REGGIO CALABRIA
ORTOPEDIA DE STEFANO SAS
S. Anna II° tronco fondo Falcone 4/E - 89128 REGGIO CALABRIA (REGGIO CALABRIA) ITALY Phone: +39-0965 891028 Fax: +39-0965 891028 E-mail: odsdestefano@tiscali.it
ORTOPEDIA DE STEFANO SRL - FILIALE TAURIANOVA
CIRCONVALLAZIONE 245 - TAURIANOVA (REGGIO CALABRIA) ITALY Phone: 0966 304248 Fax: 0966 304248 E-mail: info@ortopediadestefano.it Website: http://WWW.ORTOPEDIADESTEFANO.IT

REGGIO EMILIA
COE CENTRO ORTOPEDICO EMILIANO SRL
Via Beniamino Gigli, 8 - 42100 REGGIO EMILIA (REGGIO EMILIA) ITALY Phone: +39-0522273222 Fax: +39-0522513002 E-mail: infocoe@ottobock.com; Website: http://www.ortocoe.it
ORTOPEDIA OLIVI S.A.S.
Via Emilia Ospizio, 18 - 42100 REGGIO EMILIA (REGGIO EMILIA) ITALY Phone: +39-0522308322 Fax: +39-0522442328 E-mail: ortope16@oliviortopedia.191.it
SANAVIT SNC DI ROMAGNANI SANDRO & C.
Via Roma, 42/A - 42035 CASTELNOVO NE' MONTI (REGGIO EMILIA) ITALY Phone: +39-0522611371 Fax: +39-0522611371

RIMINI
ADJUTOR SRL - SANITARIA ORTOPEDIA AUSILI - FILIALE DI RIMINI
Via Circonvalazione Occidentale, 100 - 47900 RIMINI (RIMINI) ITALY Phone: +39-0541789035 E-mail: rimini@adjutor.it Website: http://www.adjutor.it

ROMA
CARAVAGGIO 70 SRL
Via G. Antamoro, 73/75/77 - 00139 ROMA (ROMA) ITALY Phone: +39-0687201604 Fax: +39-0687201604 E-mail: caravaggio70@virgilio.it
RIZZOLI ORTOPEDIA SPA - FILIALE DI ROMA
Circonvallazione Gianicolense, 35/39/C - 00152 ROMA (ROMA) ITALY Phone: +39-065884286 Fax: +39-065884312 E-mail: froma@rizzoliortopedia.it
SANITARIA POLARIS SRL
Piazza Vega, 9 - 00122 OSTIA LIDO (ROMA) ITALY Phone: +39-0656304151; 0656304155 Fax: +39-065627890

ROVIGO
CHIARATO DI CHIARATO ROBERTO
Via Fusinato, 5 - 45100 ROVIGO (ROVIGO) ITALY Phone: +39-0425422497 Fax: +39-0425422497 E-mail: info@chiarato.it Website: http://www.chiarato.it

SALERNO
ORTOPEDIA MERIDIONALE - FILIALE DI BATTIPAGLIA
Via P.Baratta Pzzo Innece - 84091 BATTIPAGLIA (SALERNO) ITALY Phone: +39-0828363098 Fax: +39-0828363098 E-mail: szungri@ortopediameridionale.it Website: http://www.ortopediameridionale.it
ORTOPEDIA MERIDIONALE - FILIALE DI EBOLI
Via Ripa Matteo, 19 - 84025 EBOLI (SALERNO) ITALY Phone: +39-0828363098 Fax: +39-0828363098 E-mail: szungri@ortopediameridionale.it Website: http://www.ortopediameridionale.it
ORTOPEDIA MERIDIONALE - FILIALE DI SALA CONSILINA
Via L.Sturzo 4 - 84036 SALA CONSILINA (SALERNO) ITALY Phone: 800563816 E-mail: szungri@ortopediameridionale.it Website: http://www.ortopediameridionale.it
ORTOPEDIA MERIDIONALE - FILIALE DI SALERNO
Via de Leo, 9 - 84100 SALERNO (SALERNO) ITALY Phone: +39-089725187 Fax: +39-089725187 E-mail: szungri@ortopediameridionale.it Website: http://www.ortopediameridionale.it
ORTOPEDIA SALERNITANA SAS - FILIALE DI PONTECAGNANO
Via M. Alfani, 10/12 - 84098 PONTECAGNANO FAIANO (SALERNO) ITALY Phone: +39-089382136 E-mail: ortopsa@tiscalinet.it
ORTOPEDIA SALERNITANA SAS - FILIALE DI VALLO DELLA LUCANIA
Via Monsignor Vietri - 84078 VALLO DELLA LUCANIA (SALERNO) ITALY Phone: +39-3356398897 E-mail: ortopsa@tiscalinet.it
ORTOPEDIA SALERNITANA SAS - FILIALE MINORI
Corso Vittorio Emanuele, 77 - 84010 MINORI (SALERNO) ITALY Phone: +39-3402689671 E-mail: ortopsa@tiscalinet.it
ORTOPEDIA SALERNITANA SAS - SEDE SALERNO
Via L. Colombo, 273/279 - 84129 SALERNO (SALERNO) ITALY Phone: +39-0897728433 Fax: +39-089522456 E-mail: ortopsa@tiscalinet.it
RIZZOLI ORTOPEDIA SPA - FILIALE DI SALERNO 1
Via Mauri, 36/A - 84100 SALERNO (SALERNO) ITALY Phone: +39-089338296 Fax: +39-089339028 E-mail: psalerno@rizzoliortopedia.it
RIZZOLI ORTOPEDIA SPA - FILIALE DI SALERNO 2
Via Trento, 64/B - 84100 SALERNO (SALERNO) ITALY Phone: +39-089338296 Fax: +39-089339028 E-mail: fsalerno@rizzoliortopedia.it

SAVONA
SANITAS.COM SRL
Corso Stalingrado, 4/40 - 17014 CAIRO MONTENOTTE (SAVONA) ITALY Phone: +39-019504287 Fax: +39-0195091288 E-mail: info@grupposanitas.com Website: http://www.sanitas-camera.com

TARANTO
RIZZOLI ORTOPEDIA SPA - FILIALE DI TARANTO
Via Lago Trasimeno, 2/2 - 74100 TARANTO (TARANTO) ITALY Phone: +39-0997729018 Fax: +39-0997729018 E-mail: ftaranto@rizzoliortopedia.it
TOMBOLINI OFFICINE ORTOPEDICHE DI TOMBOLINI A & C. SNC
Via S.Giovanni Zona Industriale - 74027 SAN GIORGIO JONICO (TARANTO) ITALY Phone: +39-0995927761 Fax: +39-0995919865 E-mail: info@ortopediatombolini.it Website: http://www.ortopediatombolini.it

TERNI
OFFICINA ORTOPEDICA VERGELLI SERGIO SRL
Via Mentana, 37 - 05100 TERNI (TERNI) ITALY Phone: +39-0744279439 Fax: +39-0744285234 E-mail: info@ortopediavergelli.com

TORINO
AUSILIUM S.R.L.
Via Monginevro 2/A - 10092 BEINASCO (TORINO) ITALY Phone: +39-01119620906 Fax: +39-01119837880 E-mail: info@ausilium.it Website: https://www.ausilium.it
CENTRO ORTOPEDICO CORSINI
Corso Turati, 45 bis - 10100 TORINO (TORINO) ITALY Phone: +39-0115093222 E-mail: info@zumaglini.it
OFFICINA ORTOPEDICA ZUMAGLINI
Via Jonio, 5 - 10128 TORINO (TORINO) ITALY Phone: +39-0115818864 Fax: +39-0115681796 E-mail: info@zumaglini.it
ORTOPEDIA TORASSO
Via del Collegio, 1 - 10034 CHIVASSO (TORINO) ITALY Phone: +39-0119101516 Fax: +39-0119107062 E-mail: torasso@torasso.it Website: http://www.torasso.it
PARAPHARMACIA ORTOPEDIA - SEDE DI RIVAROLO CANAVESE
Corso Torino, 75 - 10086 RIVAROLO CANAVESE (TORINO) ITALY Phone: +39-012428077 Fax: +39-0124420637 E-mail: rivarolo@laparapharmacia.com Website: http://www.laparapharmacia.com

TRENTO
ATTREZZATURE MEDICO SANITARIE SRL
Via De Gasperi, 34/3 - 38100 TRENTO (TRENTO) ITALY Phone: +39-0461391057:0461925715 Fax: +39-0461923500 E-mail: centro.ausili@amstrento.it Website: http://www.amstrento.it
UNIFARM SPA HOME CARE
Via Provina, 3 - 38040 RAVINA (TRENTO) ITALY Phone: +39-0461901111 Fax: +39-0461901240 E-mail: p.carbone@unifarm.it Website: http://www.unifarm.it

TREVISO
3G ORTOPEDIA SANITARIA
Viale della Vittoria, 236 - 31029 VITTORIO VENETO (TREVISO) ITALY Phone: +39-0438550492 Fax: +39-0438553101 E-mail: info@ortopedia3g.it Website: http://www.ortopedia3g.it
SANITARI A.G. SNC
Corso Mazzini, 156 - 31044 MONTEBELLUNA (TREVISO) ITALY Phone: +39-0423600965 ; 0423601522 Fax: +39-0423602922 E-mail: info@sanitariag.com

TRIESTE
ORTOPEDIA PORZIO SRL - FILIALE TRIESTE
Piazza dell'Ospitale, 7 - 34129 TRIESTE (TRIESTE) ITALY Phone: +39-040772180 E-mail: info@ortopediaporzio.it
RIZZOLI ORTOPEDIA SPA - FILIALE DI TRIESTE
Via Vasari, 15 - 34131 TRIESTE (TRIESTE) ITALY Phone: +39-0407606511 Fax: +39-0407606511 E-mail: ftrieste@rizzoliortopedia.it

UDINE
ORTOPEDIA PORZIO SRL - FILIALE CERVIGNANO
Via XXIV Maggio, 23 - 33052 CERVIGNANO DEL FRIULI (UDINE) ITALY Phone: +39-043130805 E-mail: info@ortopediaporzio.it
ORTOPEDIA PORZIO SRL - FILIALE CODROIPO
Piazza Garibaldi, 98 - 33033 CODROIPO (UDINE) ITALY Phone: +39-0432904257 E-mail: info@ortopediaporzio.it
ORTOPEDIA PORZIO SRL - FILIALE LATISANA
Via Sottopovolo, 63 - 33053 LATISANA (UDINE) ITALY Phone: +39-043150362 E-mail: info@ortopediaporzio.it
ORTOPEDIA PORZIO SRL - SEDE UDINE
Via Aquileia, 58 - 33100 UDINE (UDINE) ITALY Phone: +39-0432505214 Fax: +39-0432511218 E-mail: info@ortopediaporzio.it

VARESE
CAPORALI 2000 REHA SERVICE
Via Cesare Battisti, 65 - 21020 DAVERIO (VARESE) ITALY Phone: +39-0332949462 Fax: +39-0332948862 E-mail: info@caporali2000.it Website: http://www.caporali2000.it
MEDIA REHA - LONATE POZZOLO
Viale Ticino, 85 - 21015 LONATE POZZOLO (VARESE) ITALY Phone: +39-0331301699 Fax: +39-0331661777 E-mail: lonate@mediareha.it Website: http://www.mediareha.it
ORTOPEDIA SANITARI LOVATI
Piazza Liberta', 1 - 21013 GALLARATE (VARESE) ITALY Phone: +39-0331794163 Fax: +39-0331772818 E-mail: gallarate@ortopedialovati.it Website: http://www.ortopedialovati.com/
SANITARIA VARESINA CENTRO ORTOPEDICO SAS
Viale Belforte, 84 - 21100 VARESE (VARESE) ITALY Phone: +39-0332332230 Fax: +39-0332332230 E-mail: info@sanitariavaresina.it Website: http://www.sanitariavaresina.it

VERCELLI
SANITARIA SVIZZERA ORTOPEDIA
Via Svizzera, 30 - 13048 SANTHIÀ (VERCELLI) ITALY Phone: +390161931343 Fax: +390161931343 E-mail: sanitariasvizzera@gmail.com Website: http://www.ortopediasanitariasvizzera.com/

VERONA
ORTHOMEDICA S.N.C.
Stradone Santa Lucia, 39/L - 37136 VERONA (VERONA) ITALY Phone: +39-0458200444 Fax: +39-0458200855 E-mail: verona@orthomedica.it
ORTOPEDICA SCALIGERA SRL
Via Liguria, 72 - 37060 LUGAGNANO DI SONA (VERONA) ITALY Phone: +39-0456090290 Fax: +39-045566307 E-mail: info@ortopedicascaligera.it Website: http://www.ortopedicascaligera.it

VICENZA
PIANETA MOBILITA'
Via Monte Pasubio, 212/A - 36010 ZANÈ (VICENZA) ITALY Phone: +39-0445371030 Fax: +39-0445813842 E-mail: info@pianetamobilita.it Website: http://www.pianetamobilita.it/