INVACARE - BRIO 6291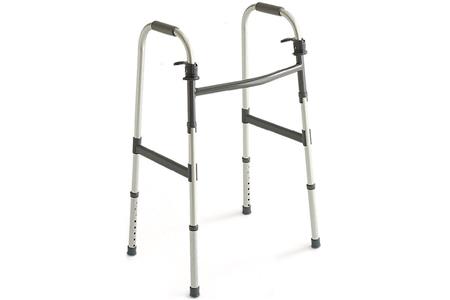 Walking frames (ISO 12.06.03)
Walking frames without castors (SIVA 12.06.03.S01)
Record number: 9379
Last update: November 2018
Brand: INVACARE
Model: BRIO 6291
Children's version available
Technical details:
MATERIALS
Aluminium.
STORAGE - TRANSPORT
Foldable.

Available sizes:
CAPACITY / RANGE
Lifting capacity (kg): 135.
OVERALL DIMENSIONS
Height (cm): 64 - 82; 77 - 94.
Length (cm): 60.
Weight (kg): 2.50; 3.
Width (cm): 46.
Description:
Foldable, in anodised aluminum, light, ideal for any movement. Available in the Junior version. Soft, anatomical and height adjustable grip handles. It can be equipped with wheels, multi-pocket bag and forearm support. For users up to 135 kg.

Italian provinces with self-declared local suppliers:

ALESSANDRIA
SANITAS MG4
Via Garibaldi, 91/9 - 15067 NOVI LIGURE (ALESSANDRIA) ITALY Phone: +39-01432656 Fax: +39-01432656 E-mail: info@ortopediamg4.it Website: http://www.ortopediamg4.it

MILANO
L'ORTOPEDIA SNC
VIA ENRICO DE NICOLA 26 - 20059 CESANO BOSCONE (MILANO) ITALY Phone: 0233614610 Fax: +39-0231809657 E-mail: info@lortopedia.it

RAVENNA
SANITARIA ROMAGNOLA SRL
via Provinciale Cotignola 22/1 - 48022 LUGO (RAVENNA) ITALY Phone: 054523669 Fax: 0545909334 E-mail: info@sanitariaromagnola.it Website: http://www.sanitariaromagnola.it

TORINO
AUSILIUM S.R.L.
Via Monginevro 2/A - 10092 BEINASCO (TORINO) ITALY Phone: +39-01119620906 Fax: +39-01119837880 E-mail: info@ausilium.it Website: https://www.ausilium.it

VERCELLI
ORTOPEDIA PIEMONTESE
Via Trento 36 - VERCELLI (VERCELLI) ITALY Phone: +39-0161213333 E-mail: Info@officinaortopedicapiemontese.it Website: http://www.officinaortopedicapiemontese.it