LEVO - C3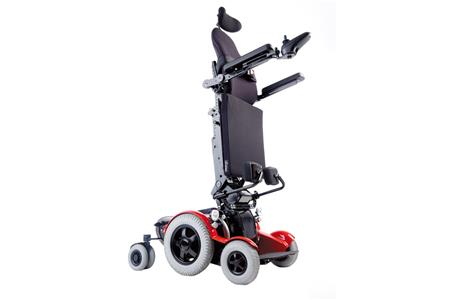 Electrically powered wheelchairs with electronic steering (ISO 12.23.06)
Electronic wheelchairs (SIVA 12.23.06.S01)
Record number: 19781
Last update: July 2015
Brand: LEVO
Model: C3
Information on public retail prices (VAT excluded) and NHS prescription codes (DPCM 12/01/2017), updated (as declared by the primary supplier) 30/07/2015

Prices and NHS prescribing
Information on public retail prices (VAT excluded) and NHS prescription codes (DPCM 12/01/2017), updated (as declared by the primary supplier) 30/07/2015
Basic configuration price: €16,500.00


Technical details:
ENERGY TYPE
Battery - rechargeable.
FUNCTIONALITIES
Armrest removable; Backrest reclining; Seat self-lift.

Description:
Electronic wheelchair with traction system 4-wheel drive. Switch from a sitting position, with traction on the wheels in the middle and at the same time support the front wheels raised, the upright with front wheel drive in support.

Italian provinces with self-declared local suppliers:

ANCONA
RIZZOLI ORTOPEDIA SPA - FILIALE DI ANCONA
Via Velino 9 - Localita' Torrette - 60020 ANCONA (ANCONA) ITALY Phone: +39-071882082 Fax: +39-0712183023 E-mail: fancona@rizzoliortopedia.it

BARI
MEDICAL CALO' SRL
Via Fumarulo, 2 - 70029 SANTERAMO IN COLLE (BARI) ITALY Phone: +39-0803023188 Fax: +39-0803022911 E-mail: medicalcalo@tiscalinet.it Website: http://www.medicalcalo.it
ORTOPEDIA DE CICCO SRL
Via Sant'Andrea, 172 - 70052 BISCEGLIE (BARI) ITALY Phone: +39-0803958030 Fax: +39-0803958031 E-mail: segreteria@ortopediadecicco.it Website: http://www.ortopediadecicco.it
RIZZOLI ORTOPEDIA SPA - FILIALE DI BARI
Via Capruzzi, 196/c - 70126 BARI (BARI) ITALY Phone: +39-0805428272 Fax: +39-0805425248 E-mail: fbari@rizzoliortopedia.it

BERGAMO
CARLO BIANCHI SNC
Via Masone, 1 - 24100 BERGAMO (BERGAMO) ITALY Phone: +39-035244261 Fax: +39-035239366 E-mail: giulio.gargano@bisnet.it Website: http://www.bisnet.it/cb
FASA SRL
Via Ambrogio da Calepio, 16 - 24125 BERGAMO (BERGAMO) ITALY Phone: +39-035247526 Fax: +39-035220229 E-mail: fasamed@libero.it Website: https://www.morettispa.com/listings/fasa-s-r-l/
MEDIA REHA - BERGAMO
Viale Kennedy, 15/C - 24066 PEDRENGO (BERGAMO) ITALY Phone: +39-035668555 Fax: +39-035657755 E-mail: bergamo@mediareha.it Website: http://www.mediareha.it

BOLOGNA
RIZZOLI ORTOPEDIA SPA - FILIALE DI BOLOGNA
Via Paolo Fabbri 106/a - 40138 BOLOGNA (BOLOGNA) ITALY Phone: +39-0516392250 Fax: +39-0516392255 E-mail: fbologna@rizzoliortopedia.it

BOLZANO
SANIT SERVICE S.R.L.
Via Piacenza 29/a - 39100 BOLZANO (BOLZANO) ITALY Phone: +39-0471201530 Fax: +39-0471203126 E-mail: sanitservice@rizzoliortopedia.it

BRESCIA
RIZZOLI ORTOPEDIA SPA - FILIALE DI BRESCIA
Via San Bartolomeo, 17 - 25100 BRESCIA (BRESCIA) ITALY Phone: +39-0303385024 Fax: +39-0303391021 E-mail: fbrescia@rizzoliortopedia.it

CAGLIARI
OFFICINE ORTOPEDICHE DR. AMEDEO INCERPI SRL
Via Simeto, 13 - 09122 CAGLIARI (CAGLIARI) ITALY Phone: +39-070281814; +39-070281816 Fax: +39-070288140 E-mail: posta@ortopediaincerpi.it Website: http://www.ortopediaincerpi.it

CASERTA
RIZZOLI ORTOPEDIA SPA - FILIALE DI CASERTA
Via San Di Nardo - Palazzo Delta - 81100 CASERTA (CASERTA) ITALY Phone: +39-0823304019 Fax: +39-0823303840 E-mail: fcaserta@rizzoliortopedia.it

CATANIA
OFFICINA TECNICA ORTOPEDICA CATANESE SRL
Via Androne, 66/70 - 95124 CATANIA (CATANIA) ITALY Phone: +39-095316914 Fax: +39-095317203 E-mail: informa@ortopediacatanese.it Website: http://www.ortopediacatanese.it
ORTOPEDIA SICILIA S.R.L.
Viale Regina Margherita, 37/A - 95124 CATANIA (CATANIA) ITALY Phone: +39-0957159931 Fax: +39-095310875 E-mail: ortopediasicilia@rizzoliortopedia.it

COMO
MEDIA REHA - COMO
Via Leone Leoni, 18/A - 22100 COMO (COMO) ITALY Phone: +39-031526723 Fax: +39-0315003728 E-mail: como@mediareha.it Website: http://www.mediareha.it

FORLI-CESENA
ADJUTOR SRL
Via Roma, 26 - 47034 FORLIMPOPOLI (FORLI-CESENA) ITALY Phone: +39-0543 745300 Fax: +39-0543 744941 E-mail: adjutor@adjutor.it Website: http://www.adjutor.it
ADJUTOR SRL - SANITARIA ORTOPEDIA - FILIALE DI FORLÌ
Viale Vespucci 55A - 47100 FORLI (FORLI-CESENA) ITALY Phone: +39-0543796420 E-mail: adjutor@adjutor.it Website: http://www.adjutor.it
RIZZOLI ORTOPEDIA SPA - FILIALE DI CESENA
Via Fiorenzuola, 1122 - 47023 CESENA (FORLI-CESENA) ITALY Phone: +39-0547304477 Fax: +39-0547301628 E-mail: fcesena@rizzoliortopedia.it

GENOVA
C. & S. COPELLO & SANGUINETI - CHIAVARI
Corso Assarotti, 5 - 16043 CHIAVARI (GENOVA) ITALY Phone: +39-0185300652 Fax: +39-0185362606 E-mail: info@copellosanguineti.it Website: http://www.copellosanguineti.it
RIZZOLI ORTOPEDIA SPA - FILIALE DI GENOVA
Corso Saffi, 1/1 - 16128 GENOVA (GENOVA) ITALY Phone: +39-010581051 Fax: +39-010581115 E-mail: fgenova@rizzoliortopedia.it

LATINA
ORTOPEDIA DI LETA - FILIALE DI APRILIA
Via Montello, 17 - 04011 APRILIA (LATINA) ITALY Phone: +39-0692727000 Fax: +39-0692727545 E-mail: ortopediadileta@tin.it
ORTOPEDIA DI LETA - FILIALE DI NETTUNO
Via Montello, 17 - 04011 APRILIA (LATINA) ITALY Phone: +39-0692727000 Fax: +39-0692727545 E-mail: ortopediadileta@tin.it

LECCE
RIZZOLI ORTOPEDIA SPA - FILIALE DI LECCE
Via 95° Reggimento Fanteria, 93/95 - 73100 LECCE (LECCE) ITALY Phone: +39-0832349218 Fax: +39-0832343218 E-mail: flecce@rizzoliortopedia.it

MACERATA
GEDAM SRL CENTRO AUSILI SPECIALIZZATO
Via Pergolesi, 44 - 62016 PORTO POTENZA PICENA (MACERATA) ITALY Phone: +39-0733687338 Fax: +39-0733686400 E-mail: info@newgedam.it Website: http://www.gedam.it

MANTOVA
ORTOPEDIA GUADAGNI DI MARCELLO FANTI E C. S.A.S.
Viale Gorizia, 17/A - 46100 MANTOVA (MANTOVA) ITALY Phone: +39-0376322230 Fax: +39-0376226532 E-mail: info@guadagni.it Website: http://www.guadagni.it

MILANO
MEDIA REHA - MILANO
Via dei Canzi, 20 - 20134 MILANO (MILANO) ITALY Phone: +39-0221597438 Fax: +39-0221592084 E-mail: milano@mediareha.it Website: http://www.mediareha.it
REHA LOMBARDIA S.N.C.
Viale della Repubblica,28 - 20037 PADERNO DUGNANO (MILANO) ITALY Phone: +39-0291084258 Fax: +39-0291084256 E-mail: info@rehalombardia.it Website: http://www.rehalombardia.it
RIZZOLI ORTOPEDIA SPA - FILIALE DI MILANO
Via G. Murat, 15 - 20159 MILANO (MILANO) ITALY Phone: +39-0269018077 Fax: +39-0269311496 E-mail: fmilano@rizzoliortopedia.it Website: http://www.rizzoliortopedia.com
RIZZOLI ORTOPEDIA SPA - FILIALE DI MONZA
Via Monte Cervino, 4 - 2052 MONZA (MILANO) ITALY Phone: +39-039734885 Fax: +39-039734885 E-mail: fmonza@rizzoliortopedia.it
ROLL STAR ITALIA SRL
Via Carlo Marx, 593 - 20099 SESTO SAN GIOVANNI (MILANO) ITALY Phone: +39-0226225546 Fax: +39-0226225482 E-mail: info@rollstaritalia.com Website: http://www.rollstaritalia.com

NAPOLI
RIZZOLI ORTOPEDIA SPA - FILIALE DI NAPOLI
Via Pansini, 5 - Nuovo Policlinico - 80131 NAPOLI (NAPOLI) ITALY Phone: +39-0817462858 Fax: +39-0815456284 E-mail: fnapoli@rizzoliortopedia.it

NOVARA
CENTRO ORTOPEDICO DI BORGOMANERO SNC
Viale Kennedy, 40 - 28021 BORGOMANERO (NOVARA) ITALY Phone: +39-0322844454 Fax: +39-0322836330 E-mail: ortopedia@ausili.com Website: http://www.ortopediaweb.com

PAVIA
ORTOPEDIA NOLI CARLO
Via Omodeo, 17 - 27100 PAVIA (PAVIA) ITALY Phone: +39-0382303607

PERUGIA
BUONUMORI SRL ORTOPEDIA MEDICURA
Via San Bartolomeo, 45 - 06087 PONTE SAN GIOVANNI (PERUGIA) ITALY Phone: +39-075396332 Fax: +39-075396331 E-mail: info@ortopediabuonumori.com Website: http://www.ortopediabuonumori.com/

PESCARA
RIZZOLI ORTOPEDIA SPA - FILIALE DI PESCARA
Via Gobetti, 124 - 65100 PESCARA (PESCARA) ITALY Phone: +39-0854213446 Fax: +39-0854213446 E-mail: fpescara@rizzoliortopedia.it

RAVENNA
ADJUTOR SRL - SANITARIA ORTOPEDIA AUSILI - FILIALE DI RAVENNA
Viale E. Berlinguer, 48 - 48100 RAVENNA (RAVENNA) ITALY Phone: +39-0544407930 E-mail: ravenna@adjutor.it Website: http://www.adjutor.it
RAIA ORTOPEDIA RAVENNA
Viale Randi, 30 - 48100 RAVENNA (RAVENNA) ITALY Phone: +39-0544403476 E-mail: ortopedia@ortoprotesi.com Website: https://www.sanitaria-ortoprotesi.com/

REGGIO EMILIA
ORTOPEDIA OLIVI S.A.S.
Via Emilia Ospizio, 18 - 42100 REGGIO EMILIA (REGGIO EMILIA) ITALY Phone: +39-0522308322 Fax: +39-0522442328 E-mail: ortope16@oliviortopedia.191.it

RIMINI
ADJUTOR SRL - SANITARIA ORTOPEDIA AUSILI - FILIALE DI RIMINI
Via Circonvalazione Occidentale, 100 - 47900 RIMINI (RIMINI) ITALY Phone: +39-0541789035 E-mail: rimini@adjutor.it Website: http://www.adjutor.it

ROMA
RIZZOLI ORTOPEDIA SPA - FILIALE DI ROMA
Circonvallazione Gianicolense, 35/39/C - 00152 ROMA (ROMA) ITALY Phone: +39-065884286 Fax: +39-065884312 E-mail: froma@rizzoliortopedia.it
SANITARIA POLARIS SRL
Piazza Vega, 9 - 00122 OSTIA LIDO (ROMA) ITALY Phone: +39-0656304151; 0656304155 Fax: +39-065627890

SALERNO
ORTOPEDIA SALERNITANA SAS - FILIALE DI PONTECAGNANO
Via M. Alfani, 10/12 - 84098 PONTECAGNANO FAIANO (SALERNO) ITALY Phone: +39-089382136 E-mail: ortopsa@tiscalinet.it
ORTOPEDIA SALERNITANA SAS - FILIALE DI VALLO DELLA LUCANIA
Via Monsignor Vietri - 84078 VALLO DELLA LUCANIA (SALERNO) ITALY Phone: +39-3356398897 E-mail: ortopsa@tiscalinet.it
ORTOPEDIA SALERNITANA SAS - FILIALE MINORI
Corso Vittorio Emanuele, 77 - 84010 MINORI (SALERNO) ITALY Phone: +39-3402689671 E-mail: ortopsa@tiscalinet.it
ORTOPEDIA SALERNITANA SAS - SEDE SALERNO
Via L. Colombo, 273/279 - 84129 SALERNO (SALERNO) ITALY Phone: +39-0897728433 Fax: +39-089522456 E-mail: ortopsa@tiscalinet.it
RIZZOLI ORTOPEDIA SPA - FILIALE DI SALERNO 1
Via Mauri, 36/A - 84100 SALERNO (SALERNO) ITALY Phone: +39-089338296 Fax: +39-089339028 E-mail: psalerno@rizzoliortopedia.it
RIZZOLI ORTOPEDIA SPA - FILIALE DI SALERNO 2
Via Trento, 64/B - 84100 SALERNO (SALERNO) ITALY Phone: +39-089338296 Fax: +39-089339028 E-mail: fsalerno@rizzoliortopedia.it

TARANTO
RIZZOLI ORTOPEDIA SPA - FILIALE DI TARANTO
Via Lago Trasimeno, 2/2 - 74100 TARANTO (TARANTO) ITALY Phone: +39-0997729018 Fax: +39-0997729018 E-mail: ftaranto@rizzoliortopedia.it

TERNI
OFFICINA ORTOPEDICA VERGELLI SERGIO SRL
Via Mentana, 37 - 05100 TERNI (TERNI) ITALY Phone: +39-0744279439 Fax: +39-0744285234 E-mail: info@ortopediavergelli.com

TORINO
CRIS SRL
Via Elvo, 25 - 10155 TORINO (TORINO) ITALY Phone: +39-011852054 Fax: +39-011858176 E-mail: info@ortopediacris.it Website: http://www.ortopediacris.it
ORTOPEDIA NUOVA BATTISTONI SRL
Via Giordano Bruno, 191/F - 10134 TORINO (TORINO) ITALY Phone: +39-0116610822 Fax: +39-0116618331 E-mail: info@ortopediabattistoni.com

TRENTO
UNIFARM SPA HOME CARE
Via Provina, 3 - 38040 RAVINA (TRENTO) ITALY Phone: +39-0461901111 Fax: +39-0461901240 E-mail: p.carbone@unifarm.it Website: http://www.unifarm.it

TREVISO
LABORATORIO ORTOPEDICO GIORGIONE SRL
VIA S. Pio X, 154 - 31033 CASTELFRANCO VENETO (TREVISO) ITALY Phone: +39-0423741884 Fax: +39-0423722739 E-mail: info@labgiorgione.com Website: http://www.sanitariagiorgione.it
SANITARI A.G. SNC
Corso Mazzini, 156 - 31044 MONTEBELLUNA (TREVISO) ITALY Phone: +39-0423600965 ; 0423601522 Fax: +39-0423602922 E-mail: info@sanitariag.com

TRIESTE
RIZZOLI ORTOPEDIA SPA - FILIALE DI TRIESTE
Via Vasari, 15 - 34131 TRIESTE (TRIESTE) ITALY Phone: +39-0407606511 Fax: +39-0407606511 E-mail: ftrieste@rizzoliortopedia.it

VARESE
CAPORALI 2000 REHA SERVICE
Via Cesare Battisti, 65 - 21020 DAVERIO (VARESE) ITALY Phone: +39-0332949462 Fax: +39-0332948862 E-mail: info@caporali2000.it Website: http://www.caporali2000.it
MEDIA REHA - LONATE POZZOLO
Viale Ticino, 85 - 21015 LONATE POZZOLO (VARESE) ITALY Phone: +39-0331301699 Fax: +39-0331661777 E-mail: lonate@mediareha.it Website: http://www.mediareha.it
ORTOPEDIA BRUGORA SNC - FILIALE DI SARONNO
Via Padre Luigi Monti, 5 - 21047 SARONNO (VARESE) ITALY Phone: +39-029602408 Fax: +39-029602408 E-mail: ortopediabrugola@libero.it

VERONA
ORTHOMEDICA S.N.C.
Stradone Santa Lucia, 39/L - 37136 VERONA (VERONA) ITALY Phone: +39-0458200444 Fax: +39-0458200855 E-mail: verona@orthomedica.it