XBOX - ADAPTIVE CONTROLLER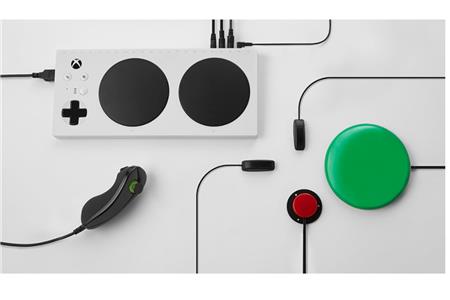 Input accessories (ISO 22.36.15)
Switch interfaces (SIVA 22.36.15.S02)
Record number: 21019
Last update: September 2023
Brand: XBOX
Model: ADAPTIVE CONTROLLER
Information on public retail prices (VAT excluded) and NHS prescription codes (DPCM 12/01/2017), updated (as declared by the primary supplier) 27/09/2023

Prices and NHS prescribing
Information on public retail prices (VAT excluded) and NHS prescription codes (DPCM 12/01/2017), updated (as declared by the primary supplier) 15/04/2019
Basic configuration price: €89.99


Technical details:
CONNECTIVITY
Usb.
ENERGY TYPE
Battery - rechargeable; Power via USB.
FUNCTIONALITIES
Programmable/configurable.
INPUT DEVICES
Joystick; Keys/Keyboard; Multiple switch (joystick); Single Switch.
OPERATING SYSTEMS
Windows.

Description:
Game pad for Xbox One console and Windows 10 PC which? You can connect external devices such as switches, buttons, and joysticks to customize the use of the controller. These devices can be connected via 3.5 mm jack connectors and USB ports.