Databases
Services
Submit
Restricted area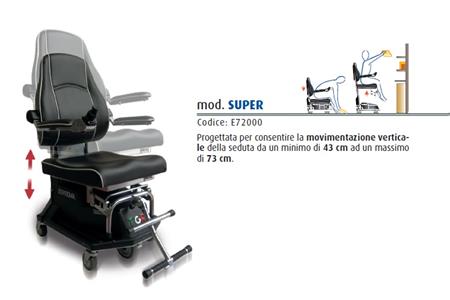 Electrically powered wheelchairs with electronic steering (ISO 12.23.06)
Electronic wheelchairs (SIVA 12.23.06.S01)
Record number: 10593
Last update: April 2021
Brand: TGR
Model: SUPREMA SUPER
Children's version available
Prices and NHS prescribing
Information on public retail prices (VAT excluded) and NHS prescription codes (DPCM 12/01/2017), updated (as declared by the primary supplier) 17/03/2016
Basic configuration price: €4,000.00


Technical details:
ENERGY TYPE
Battery - rechargeable.
FUNCTIONALITIES
Armrest removable; Footrest Removable.
STORAGE - TRANSPORT
Dismantles.
STRUCTURE
Height adjustable.

Available sizes:
CAPACITY / RANGE
Lifting capacity (kg): 120.
OVERALL DIMENSIONS
Length (cm): 72.
Weight (kg): 53.
Width (cm): 58.
SEAT DIMENSIONS / ANGLES
Seat Back Height (cm): 56.
Seat Height (cm): 43 - 74.
Seat Width (cm): 42.50.
Description:
Indoor electric wheelchair. The product is equipped with a system that allows the seat to be moved vertically, which can lower itself to 43 cm and rise up to 74 cm from the ground. It is equipped with 2 drive wheels, height-adjustable footrest, seat in expanded polyurethane, fold-down armrests.
Videos

Italian provinces with self-declared local suppliers: