Databases
Services
Submit
Restricted area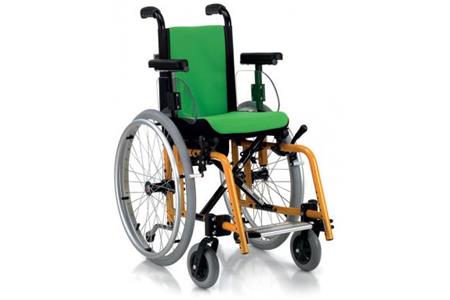 Bimanual handrim-drive wheelchairs (ISO 12.22.03)
Bimanual rear-wheel-driven wheelchairs (SIVA 12.22.03.S01)
Record number: 10603
Last update: January 2015
Brand: NUOVA BLANDINO
Model: GR 110
Children's version available
Technical details:
FUNCTIONALITIES
Armrest removable.
STORAGE - TRANSPORT
Foldable.

Available sizes:
CAPACITY / RANGE
Lifting capacity (kg): 120.
OVERALL DIMENSIONS
Length (cm): 77.
Weight (kg): 11.50.
Width (cm): 44; 46; 49.
SEAT DIMENSIONS / ANGLES
Armrest Height (cm): 20.
Seat Depth (cm): 33.
Seat Height (cm): 48.
Seat Width (cm): 28; 30; 33; 36.
Description:
Wheelchair for children and boys able to use it indipendently or half-indipendently. Backrest with tensioning belts; Adjustable position of the rear wheels axle; Quick-release axles; Front fork adjustable in height and declivity; Removable armrests, adjustable in height; Pushing haldles in height adjustable; Single footplate adjustable in height, depth and flexion-extention; Anti-tipping wheels.
Italian provinces with self-declared local suppliers: