Databases
Services
Submit
Restricted area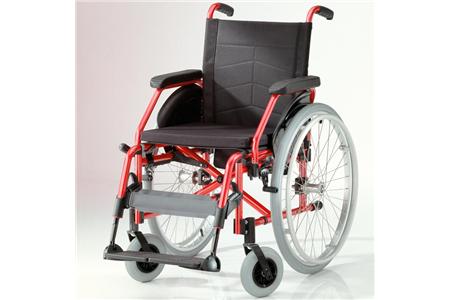 Bimanual handrim-drive wheelchairs (ISO 12.22.03)
Bimanual rear-wheel-driven wheelchairs (SIVA 12.22.03.S01)
Record number: 11653
Last update: May 2018
Brand: MEYRA
Model: 1.850 EUROCHAIR
Technical details:
FUNCTIONALITIES
Armrest removable; Footrest Removable.
STORAGE - TRANSPORT
Foldable.

Available sizes:
CAPACITY / RANGE
Lifting capacity (kg): 120.
OVERALL DIMENSIONS
Height (cm): 95.
Length (cm): 102.
Weight (kg): 15.
Width (cm): 56; 58; 61; 64.
SEAT DIMENSIONS / ANGLES
Armrest Height (cm): 23.
Seat Back Height (cm): 42; 45.
Seat Depth (cm): 40; 46.
Seat Height (cm): 41 - 53.
Seat Width (cm): 28; 40; 43; 46.
Description:
(text automatically translated from Italian) Super-light wheelchair. It has the collapsible frame to cruise, the footrests can be turned inside or outside, the posterior wheels can be regulated on more heights, the sides are opportunely short for being able to approach itself tables without too much difficulty and can be folded behind the back. Model Hemi ***Special for hemoplegic with ***possibilita' of push with the healthy leg.
Italian provinces with self-declared local suppliers: