Databases
Services
Submit
Restricted area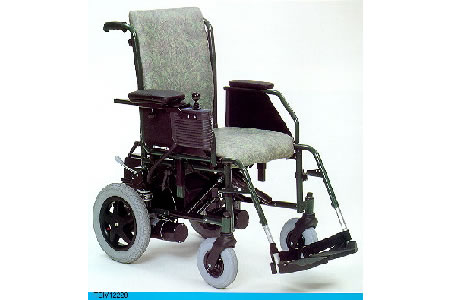 Electrically powered wheelchairs with electronic steering (ISO 12.23.06)
Electronic wheelchairs (SIVA 12.23.06.S01)
Record number: 12220
Last update: November 2012
Brand: VERMEIREN
Model: EXPRESS 2009
Technical details:
ENERGY TYPE
Battery - rechargeable.
FUNCTIONALITIES
Armrest removable; Backrest Folding; Footrest Removable.
STORAGE - TRANSPORT
Foldable.

Available sizes:
CAPACITY / RANGE
Range of travel (km): 20.
Speed of travel (km/h): 6.
OVERALL DIMENSIONS
Height (cm): 92.
Length (cm): 117.
Weight (kg): 56.
Width (cm): 56; 58; 60; 62; 64.
SEAT DIMENSIONS / ANGLES
Armrest Height (cm): 22.
Seat Back Height (cm): 43.
Seat Depth (cm): 43.
Seat Height (cm): 51.
Seat Width (cm): 39; 42; 44; 46; 50.
Description:
(text automatically translated from Italian) It has the collapsible frame to cruise, adjustable and disassemblable footrests, possibility to have system of lighting system with directional arrows and emergency. The electronic control available also from table, to chin and for companion.
Italian provinces with self-declared local suppliers: