Databases
Services
Submit
Restricted area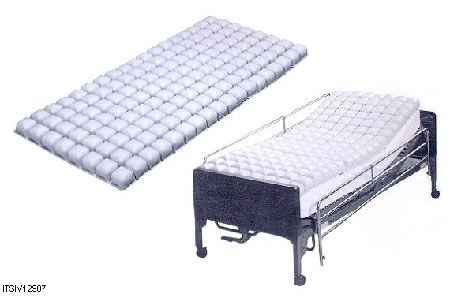 Assistive products for tissue integrity when lying down (ISO 04.33.06)
Antidecubitus coverings (SIVA 04.33.06.S03)
Record number: 12987
Last update: August 2016
Brand: ROHO
Model: SOFFLEX 2
Technical details:
MATERIALS
Polyurethane.

Available sizes:
OVERALL DIMENSIONS
Height (cm): 8.
Length (cm): 66; 88; 203; 206.
Weight (kg): 3.
Width (cm): 56; 69; 88; 91.
Description:
The ROHO SOFFLEX 2 Mattress Overlay is a non-powered, airfilled, adjustable, zoned, reactive, full support surface that is intended to conform to an individual's shape to provide skin/soft tissue and deep tissue injury protection and an environment to facilitate wound healing. The SOFFLEX 2 Mattress Overlay provides individualized pressure, shear and friction management through force redistribution to an individual's shape.
Italian provinces with self-declared local suppliers: