Databases
Services
Submit
Restricted area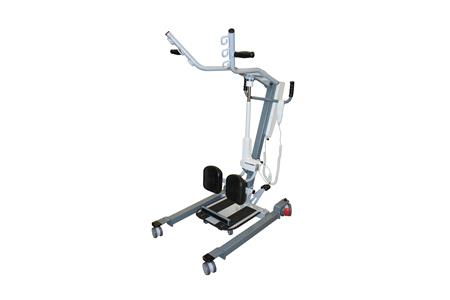 Mobile hoists for transferring a person in sitting position with sling seats (ISO 12.36.03)
Mobile hoists with sling seats (SIVA 12.36.03.S01)
Record number: 13687
Last update: May 2018
Brand: SCANMEDICALEUROPE
Model: VERTIC 1
Technical details:
ENERGY TYPE
Battery - rechargeable; Mechanical.
STRUCTURE
Stretchable base.

Available sizes:
CAPACITY / RANGE
Lifting capacity (kg): 150.
OVERALL DIMENSIONS
Length (cm): 90.
Weight (kg): 39.
Width (cm): 58.
SPECIFIC DIMENSIONS
Lifting Height (cm): 180.
Width / Frame Width (cm): 45 - 82.
Description:
Lifter equipped with a LINAK control unit, remote control with electric cable, a non-slip footboard, an adjustable and padded knee protector, 6-point lifting beam, 2 handles to help the patient stand up, base with 4 pivoting wheels of which 2 with stop brakes, a mechanical emergency lowering system and an additional electronic emergency lowering system in the event of a remote control malfunction. Opening and closing of the base with pedal.
Further info

Italian provinces with self-declared local suppliers: