Databases
Services
Submit
Restricted area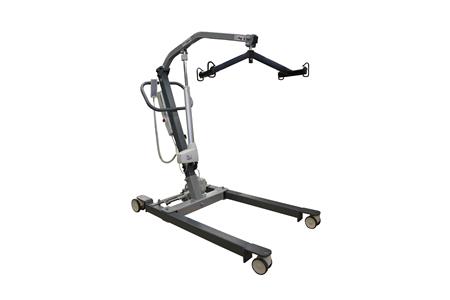 Mobile hoists for transferring a person in sitting position with sling seats (ISO 12.36.03)
Mobile hoists with sling seats (SIVA 12.36.03.S01)
Record number: 13689
Last update: May 2018
Brand: SCANMEDICALEUROPE
Model: LIFTY 6
Technical details:
ENERGY TYPE
Battery - rechargeable; Mechanical.
STRUCTURE
Stretchable base.

Available sizes:
CAPACITY / RANGE
Lifting capacity (kg): 330.
OVERALL DIMENSIONS
Length (cm): 152.
Weight (kg): 74.
Width (cm): 76.
SPECIFIC DIMENSIONS
Lifting Height (cm): 185.
Width / Frame Width (cm): 61 - 108.
Description:
Passive electric lift equipped with a LINAK control unit, remote control with electric cable, 4-point linkage, handle to facilitate movement, base with 4 pivoting wheels, an EMERGENCY RED emergency button, a mechanical emergency lowering system and another electronic emergency lowering system in case of remote control malfunction. An electrical system activates the opening and closing of the base. Capacity 330Kg.
Further info

Italian provinces with self-declared local suppliers: