Databases
Services
Submit
Restricted area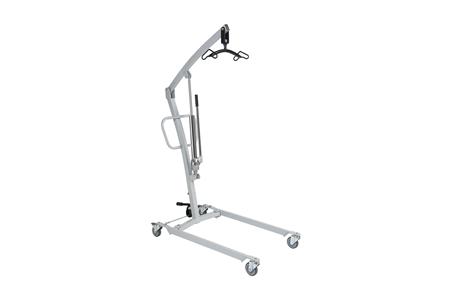 Mobile hoists for transferring a person in sitting position with sling seats (ISO 12.36.03)
Mobile hoists with sling seats (SIVA 12.36.03.S01)
Record number: 13691
Last update: May 2018
Brand: SCANMEDICALEUROPE
Model: GENESIS OLEOPNEUMATICO
Technical details:
ENERGY TYPE
Hydraulic.
STRUCTURE
Stretchable base.

Available sizes:
CAPACITY / RANGE
Lifting capacity (kg): 180.
OVERALL DIMENSIONS
Length (cm): 117.
Weight (kg): 36.
Width (cm): 48.
SPECIFIC DIMENSIONS
Lifting Height (cm): 160.
Width / Frame Width (cm): 48 - 113.
Description:
Passive lift that allows patients / bed / wheelchair / stretcher lifting with important functional limitations. It is equipped with a hydraulic lever-operated piston, a 4-point lifting beam with a safety system, a handle for movement, a 4-pivoting wheel base, 2 of which have a stop brake. A pedal also activates the opening and closing of the side members.
Further info

Italian provinces with self-declared local suppliers: