Databases
Services
Submit
Restricted area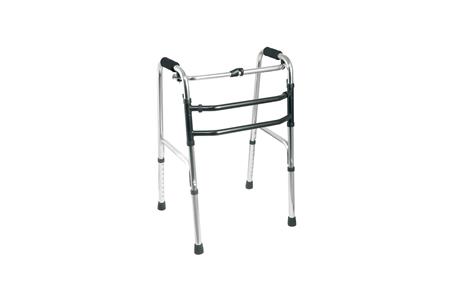 Walking frames (ISO 12.06.03)
Walking frames without castors (SIVA 12.06.03.S01)
Record number: 13698
Last update: May 2018
Brand: SCANMEDICALEUROPE
Model: DEAMBULATORE ARTICOLATO
Technical details:
STORAGE - TRANSPORT
Foldable.
STRUCTURE
Height adjustable.

Available sizes:
CAPACITY / RANGE
Lifting capacity (kg): 130.
OVERALL DIMENSIONS
Height (cm): 78 - 96.
Description:
Walker with a foldable aluminum structure that is height adjustable. It also has two horizontal stabilizing bars and four legs equipped with anti-slip tips. The folding can easily be done using the locking pin located at the center of the upper bar, the knobs are ergonomic and padded for a more comfortable grip. Maximum Capacity: 130 Kg.
Further info

Italian provinces with self-declared local suppliers: