Databases
Services
Submit
Restricted area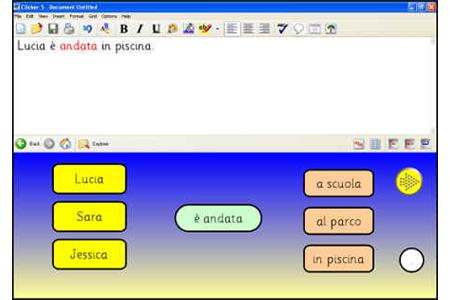 Face-to-face communication software (ISO 22.21.12)
Face-to-face communication software (SIVA 22.21.12.S01)
Record number: 14499
Last update: December 2010
Brand: CRICK SOFTWARE
Model: CLICKER 5
Technical details:
FUNCTIONALITIES
Allows creation of Macro function; Word prediction/completion.
INPUT ADJUSTMENTS
Colour of controls (or keys) can be changed; Controls (or keys) activation delay adjustable; Font size on controls/keys adjustable; Number of controls (or keys) configuable; Scanning speed adjustable; Size of controls (or keys) adjustable; Type of scanning.
INPUT DEVICES
Double switch; Keys/Keyboard; Mouse; Single Switch.
LANGUAGES
English; Italian.
LINGUISTIC REPRESENTATIONS
Alphabetic; Symbolic.
OPERATING SYSTEMS
Windows.
OUTPUT DEVICES/SOFTWARE
Audio file or sound/speech recorded; Screen; Voice synthesis.
REPORTED WITHIN THE RESEARCH PROJECT
Cloud4All.

Description:
(text automatically translated from Italian) Software that allows to create personalized tables and ***griglie, is for didactic activities that for the communication, with the output in digital voice (recorded sounds) or vocal synthesis. The selection of the cells can be carried out with the mouse, keyboard or to scansion through external sensors. To the single cells they can be bound together: Images, sounds and written text, officer in order to execute an other program, ***macro of keys (sequence of characters), or the opening of an other table.
Italian provinces with self-declared local suppliers: