Databases
Services
Submit
Restricted area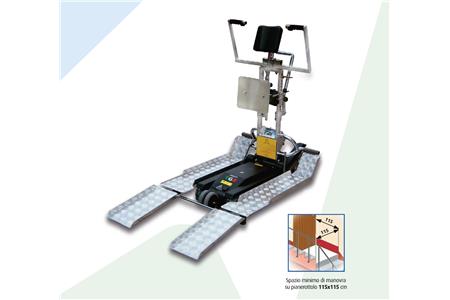 Powered stair-climbing transporters (ISO 12.17.03)
Stairclimbers (SIVA 12.17.03.S01)
Record number: 14769
Last update: April 2021
Brand: TGR
Model: JOLLY RAMP
Prices and NHS prescribing
Information on public retail prices (VAT excluded) and NHS prescription codes (DPCM 12/01/2017), updated (as declared by the primary supplier) 06/04/2016
Basic configuration price: €4,950.00


Technical details:
AUTONOMY
up to 1 week.
ENERGY TYPE
Battery - rechargeable.
STORAGE - TRANSPORT
Dismantles; Mobile/Tracked.

Available sizes:
CAPACITY / RANGE
Lifting capacity (kg): 150.
Power (watt): 160.
ENVIRONMENT / ACCESS DIMENSIONS
Max. Gradient / Slope (%): 70.
OVERALL DIMENSIONS
Height (cm): 97.
Length (cm): 105.
Weight (kg): 71.
Width (cm): 68.
Description:
Stairlift formed by a pair of tracks driven by an electric motor. It is equipped with slides that facilitate the loading of the wheelchair and has been designed in particular for the transport of electronic and tilting wheelchairs. It has an autonomy of 100 flights of stairs (50 floors). To maneuver it the minimum dimensions of the landing must be 115 cm by 115 cm.
Videos

Italian provinces with self-declared local suppliers: