Databases
Services
Submit
Restricted area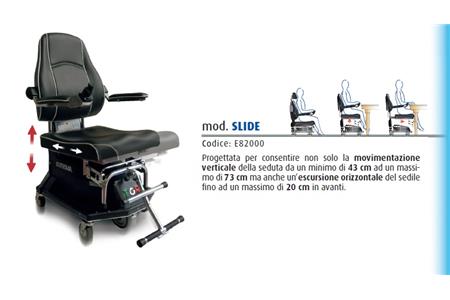 Electrically powered wheelchairs with electronic steering (ISO 12.23.06)
Electronic wheelchairs (SIVA 12.23.06.S01)
Record number: 14802
Last update: April 2021
Brand: TGR
Model: SUPREMA SLIDE
Children's version available
Prices and NHS prescribing
Information on public retail prices (VAT excluded) and NHS prescription codes (DPCM 12/01/2017), updated (as declared by the primary supplier) 17/03/2016
Basic configuration price: €5,000.00


Technical details:
ENERGY TYPE
Battery - rechargeable.
FUNCTIONALITIES
Armrest removable; Footrest Removable.
STRUCTURE
Height adjustable.

Available sizes:
CAPACITY / RANGE
Lifting capacity (kg): 120.
Speed of travel (km/h): 1.23.
OVERALL DIMENSIONS
Length (cm): 72.
Weight (kg): 58.
Width (cm): 58.
SEAT DIMENSIONS / ANGLES
Armrest Height (cm): 19.50.
Seat Back Height (cm): 56.
Seat Height (cm): 43 - 74.
Seat Width (cm): 42.50.
Description:
Indoor electric wheelchair. The product is equipped with a system that allows the seat to be moved vertically, which can lower itself to 43 cm and rise up to 74 cm from the ground. This specific version allows the approach to the table through the advancement of the 20 Cm session.
Videos

Italian provinces with self-declared local suppliers: