Databases
Services
Submit
Restricted area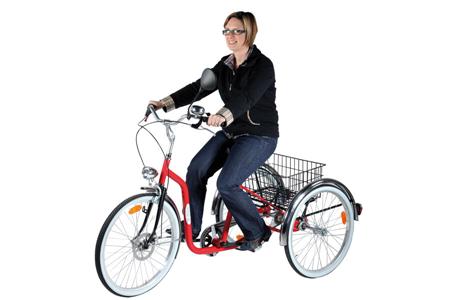 Foot-propelled tricycles and quadricycles (ISO 12.18.06)
Foot-propelled tricycles (SIVA 12.18.06.S01)
Record number: 1547
Last update: July 2012
Brand: GIALDI
Model: 300E - 300J
Prices and NHS prescribing
Information on public retail prices (VAT excluded) and NHS prescription codes (DPCM 12/01/2017), updated (as declared by the primary supplier) 01/06/2012
Basic configuration price: €820.00


Available sizes:
OVERALL DIMENSIONS
Length (cm): 150; 175.
Weight (kg): 25; 26.
Width (cm): 75.
Description:
It is a frame designed to facilitate access with no obstacles. It is available in 2 sizes and with a seat-shaped saddle. A version with traction crank is available. It has an emergency brake on the back wheels. By request: gearbox and electrical engine.
Italian provinces with self-declared local suppliers: