Databases
Services
Submit
Restricted area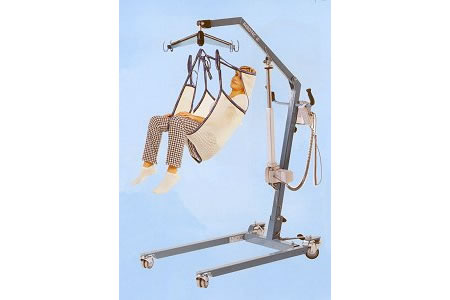 Mobile hoists for transferring a person in sitting position with sling seats (ISO 12.36.03)
Mobile hoists with sling seats (SIVA 12.36.03.S01)
Record number: 15604
Last update: July 2014
Brand: CHINESPORT
Model: ARNOLD
Prices and NHS prescribing
Information on public retail prices (VAT excluded) and NHS prescription codes (DPCM 12/01/2017), updated (as declared by the primary supplier) 31/01/2011
Basic configuration price: €1,500.00


Technical details:
ENERGY TYPE
Battery - rechargeable.
STRUCTURE
Stretchable base.
USE MODALITY
is allowing.

Available sizes:
CAPACITY / RANGE
Lifting capacity (kg): 150.
OVERALL DIMENSIONS
Width (cm): 61.
SPECIFIC DIMENSIONS
Lifting Height (cm): 165.
Width / Frame Width (cm): 61 - 106.
Description:
Foldable electrical patient hoist complete with support and sling.
Italian provinces with self-declared local suppliers: