Databases
Services
Submit
Restricted area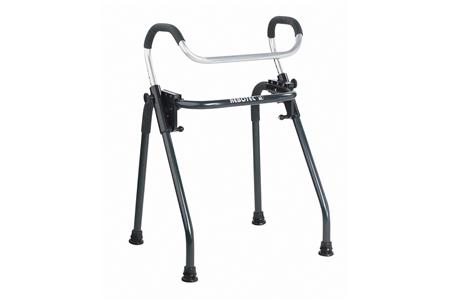 Walking frames (ISO 12.06.03)
Walking frames without castors (SIVA 12.06.03.S01)
Record number: 15607
Last update: September 2012
Brand: REBOTEC
Model: WALK-ON E WALK-ON ROLL
Prices and NHS prescribing
Information on public retail prices (VAT excluded) and NHS prescription codes (DPCM 12/01/2017), updated (as declared by the primary supplier) 31/01/2011
Basic configuration price: €75.00


Technical details:
MATERIALS
Aluminium.
STORAGE - TRANSPORT
Foldable.
STRUCTURE
Height adjustable.

Available sizes:
CAPACITY / RANGE
Lifting capacity (kg): 120 - 150.
OVERALL DIMENSIONS
Height (cm): 78 - 97.50.
Weight (kg): 3.60.
Width (cm): 60.
Description:
Foldable and adjustable walker, in painted aluminum. Non-slip ferrules and handgrip. The ROLL model, equipped with two front wheels with brakes.
Italian provinces with self-declared local suppliers: