Databases
Services
Submit
Restricted area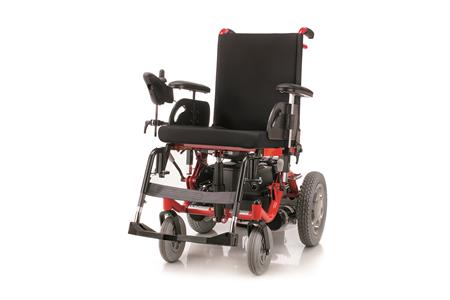 Electrically powered wheelchairs with electronic steering (ISO 12.23.06)
Electronic wheelchairs (SIVA 12.23.06.S01)
Record number: 16046
Last update: September 2017
Brand: NUOVA BLANDINO
Model: GR 558
Prices and NHS prescribing
Information on public retail prices (VAT excluded) and NHS prescription codes (DPCM 12/01/2017), updated (as declared by the primary supplier) 26/09/2017
Basic configuration price: €3,187.00


Technical details:
ENERGY TYPE
Battery - rechargeable.
FUNCTIONALITIES
Armrest removable; Backrest Folding; Backrest reclining; Footrest Removable; Seat Swivel.
STORAGE - TRANSPORT
Dismantles.

Available sizes:
CAPACITY / RANGE
Lifting capacity (kg): 120.
Range of travel (km): 30.
Speed of travel (km/h): 6.
ENVIRONMENT / ACCESS DIMENSIONS
Max. Gradient / Slope (%): 15.
OVERALL DIMENSIONS
Weight (kg): 65.
SEAT DIMENSIONS / ANGLES
Seat Width (cm): 36; 40; 45.
Description:
Tilting electric wheelchair for indoor use. Possibility of customization - light kit for outdoor use - padded multifunctional headrest - shaped padded seat - padded table with side shape - electrically reclining backrest. Present in different sizes and colors.
Further info

Italian provinces with self-declared local suppliers: