Databases
Services
Submit
Restricted area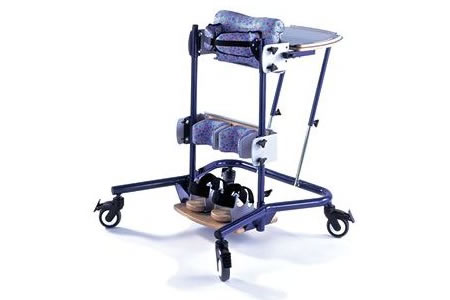 Standing frames and supports for standing (ISO 05.36.03)
Supports for standing (SIVA 05.36.03.S01)
Record number: 16232
Last update: September 2015
Brand: LECKEY
Model: FREESTANDER
Children's version available
Technical details:
STORAGE - TRANSPORT
Mobile/Wheeled.

Available sizes:
CAPACITY / RANGE
Lifting capacity (kg): 60; 80; 90.
OVERALL DIMENSIONS
Height (cm): 80 - 105; 105 - 140; 140 - 185.
Length (cm): 60; 65; 70.
Width (cm): 60; 65; 70.
Description:
static stabilizer for the upright posture with adjustable support elements. It? Available in three sizes, for the child and for the? adult. The wide rear frame facilitates? Rapprochement with the wheelchair. The stabilizer? with flexible lateral supports, support pectoral, pelvic fascia, supports for the knees and removable floor mat, all with possibility adjustment. Accessories: upside to running boards, thickness knee supports, table stands for the hands.
Italian provinces with self-declared local suppliers: