Databases
Services
Submit
Restricted area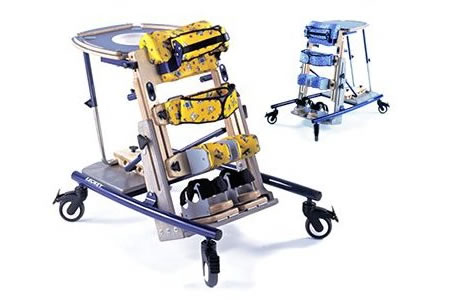 Tilting tables (ISO 05.36.06)
Prone tilting tables (SIVA 05.36.06.S03)
Record number: 16234
Last update: September 2015
Brand: LECKEY
Model: PRONESTANDER
Children's version available
Technical details:
STORAGE - TRANSPORT
Mobile/Wheeled.

Available sizes:
CAPACITY / RANGE
Lifting capacity (kg): 60; 80; 90.
OVERALL DIMENSIONS
Height (cm): 90 - 120; 120 - 140; 140 - 185.
Width (cm): 65; 75.
Description:
Stander for the upright and prone posture with adjustable support components. It is available in three sizes, for children and adults. The stander is complete of flexible lateral supports, a chest strap, a pelvic belt, knee supports and hinged footrest, all adjustable. Accessories: footplate wedge, thicker knee supports, hand supports for the tray.
Italian provinces with self-declared local suppliers: