Databases
Services
Submit
Restricted area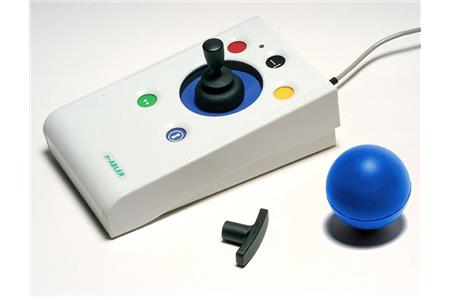 Computer pointing devices (ISO 22.36.21)
Joystick mouse devices (SIVA 22.36.21.S02)
Record number: 17865
Last update: July 2009
Brand: PRETORIAN
Model: N-ABLER JOYSTICK
Prices and NHS prescribing
Information on public retail prices (VAT excluded) and NHS prescription codes (DPCM 12/01/2017), updated (as declared by the primary supplier) 14/07/2009
Basic configuration price: €0.00


Technical details:
ACTIVATION MODALITIES
Proportional activation.
CONNECTIVITY
Usb.
INPUT DEVICES
Joystick.
OPERATING SYSTEMS
Mac OS; Windows.
REPORTED WITHIN THE RESEARCH PROJECT
Cloud4All.

Description:
(text automatically translated from Italian) Joystick proportional of great dimensions, characterized from an extreme precision and reliability. It is equipped with the functions left click, skillful click, double click, blocked dragging, block of the movement aces, speed governor. The keys function groove to you facilitate customers with problems of fine control of the hand. Two incomes for the sensors are present to the aim to emulate the left click and the skillful click of the mouse. The instrument can moreover be shaped for being used in 4 various guidelines.
Italian provinces with self-declared local suppliers: