Databases
Services
Submit
Restricted area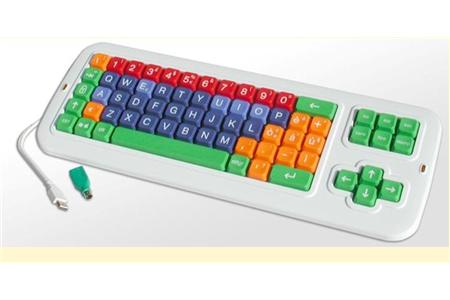 Keyboards (ISO 22.36.03)
Keyboards with a special design (SIVA 22.36.03.S03)
Record number: 17989
Last update: July 2018
Brand: HELPICARE
Model: DIDAKEYS
Prices and NHS prescribing
Information on public retail prices (VAT excluded) and NHS prescription codes (DPCM 12/01/2017), updated (as declared by the primary supplier) 04/07/2018
Basic configuration price:
€169.00
PRESCRIPTION CODES INCLUDED IN THE BASIC CONFIGURATION

| NHS Code | Description |
| --- | --- |
| 22.36.03.006 | Tastiera semplificata |
Technical details:
CONNECTIVITY
Usb.
OPERATING SYSTEMS
Mac OS; Windows.
REPORTED WITHIN THE RESEARCH PROJECT
Cloud4All.

Available sizes:
OVERALL DIMENSIONS
Height (cm): 4.
Length (cm): 18.
Weight (kg): 0.90.
Width (cm): 48.
Description:
Facilitated Italian keyboard. It has large keys (cm 2 x 2). It includes accented letters and the main function keys in Italian. It connects to a PC with USB or PS2. It has only the QWERTY configuration. The keys are 5 different colors that characterize different functions: RED: numbers; BLUE: consonants; BLUE: vowels; ORANGE: punctuation, math, accented; GREEN: function keys. And 'provided a shield to facilitate the selection of keys.
Italian provinces with self-declared local suppliers: