Databases
Services
Submit
Restricted area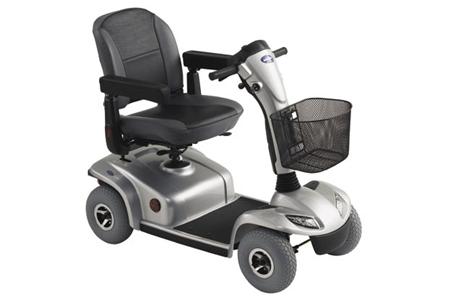 Electrically powered wheelchairs with manual direct steering (ISO 12.23.03)
Electric scooters with four wheels (SIVA 12.23.03.S01)
Record number: 18409
Last update: November 2018
Brand: INVACARE
Model: LEO
Technical details:
ENERGY TYPE
Battery - rechargeable.
STORAGE - TRANSPORT
Dismantles.

Available sizes:
CAPACITY / RANGE
Lifting capacity (kg): 136.
Range of travel (km): 36.
Speed of travel (km/h): 8.
ENVIRONMENT / ACCESS DIMENSIONS
Kerb height (cm): 6.
Max. Gradient / Slope (%): 17.
OVERALL DIMENSIONS
Height (cm): 100.
Length (cm): 122.
Weight (kg): 83.
Width (cm): 59.
SEAT DIMENSIONS / ANGLES
Seat Back Height (cm): 47.50.
Seat Depth (cm): 41.
Seat Height (cm): 46 - 56.
Seat Width (cm): 47.
Description:
Invacare Leo is the 4-wheeled scooter with removable frame ideal for those seeking independence and autonomy. Safety, style, manageability and practicality make Invacare Leo a small road champion! Together you can enjoy the freedom and enjoy the taste of an outdoor trip.
Italian provinces with self-declared local suppliers: