Databases
Services
Submit
Restricted area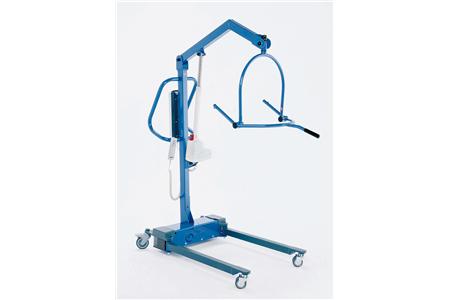 Mobile hoists for transferring a person in sitting position with sling seats (ISO 12.36.03)
Mobile hoists with sling seats (SIVA 12.36.03.S01)
Record number: 18752
Last update: July 2014
Brand: CHINESPORT
Model: DUMBO BALANCE
Technical details:
ENERGY TYPE
Battery - rechargeable.
STRUCTURE
Stretchable base.
USE MODALITY
is allowing.

Available sizes:
CAPACITY / RANGE
Lifting capacity (kg): 160.
OVERALL DIMENSIONS
Height (cm): 218.
Length (cm): 126.
Width (cm): 54 - 109.
Description:
Electric patient hoist with detachable and rechargeable 24V battery. This equipment is essential for handling, lifting or repositioning patients who are disabled, elderly or unable to cooperate. Complete with clutched spreader bar and control bar to ensure the patient is easily brought to seated or lying position by means of a maximum security clip slings. Epoxy coated steel frame. Emergency lowering device, both electric and manual. Provided with anti-crush device.
Italian provinces with self-declared local suppliers: