Databases
Services
Submit
Restricted area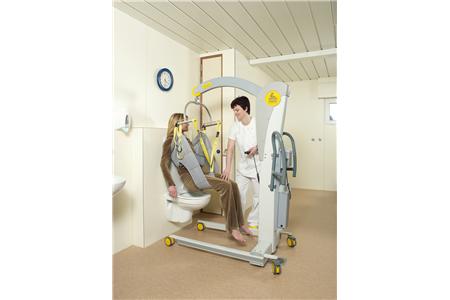 Mobile hoists for transferring a person in sitting position with sling seats (ISO 12.36.03)
Mobile hoists with sling seats (SIVA 12.36.03.S01)
Record number: 18897
Last update: September 2012
Brand: HANDI MOVE
Model: VICTOR
Technical details:
ENERGY TYPE
Battery - rechargeable.
STRUCTURE
Stretchable base.
USE MODALITY
is allowing.

Available sizes:
CAPACITY / RANGE
Lifting capacity (kg): 225.
OVERALL DIMENSIONS
Height (cm): 173.
Length (cm): 123.
Weight (kg): 58.
Width (cm): 63; 110.
SPECIFIC DIMENSIONS
Lifting Height (cm): 224.
Width / Frame Width (cm): 63; 110.
Description:
Electric patient hoist with battery, light thanks to the steel frame, electric leg opening system with four large wheels, large ergonomic handles.
Italian provinces with self-declared local suppliers: