Databases
Services
Submit
Restricted area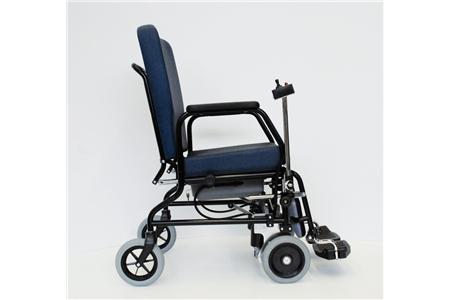 Electrically powered wheelchairs with electronic steering (ISO 12.23.06)
Electronic wheelchairs (SIVA 12.23.06.S01)
Record number: 18915
Last update: June 2014
Brand: TEC.MECA SNC
Model: SELF-MOD.TM202
Technical details:
ENERGY TYPE
Battery - rechargeable.
FUNCTIONALITIES
Armrest removable; Backrest reclining; Footrest Removable.

Available sizes:
CAPACITY / RANGE
Lifting capacity (kg): 120.
Range of travel (km): 6.
Speed of travel (km/h): 1.
ENVIRONMENT / ACCESS DIMENSIONS
Kerb height (cm): 2.50.
Max. Gradient / Slope (%): 3.
Turning circle (cm): 115.
OVERALL DIMENSIONS
Height (cm): 109.
Length (cm): 87.
Weight (kg): 34.
Width (cm): 55.
SEAT DIMENSIONS / ANGLES
Armrest Height (cm): 23.
Back-seat Angle (degrees): 90 - 145.
Seat Back Height (cm): 57.
Seat Depth (cm): 45.
Seat Height (cm): 54.
Seat Width (cm): 43.
Description:
(text automatically translated from Italian) ***SELF mod.TM202 is the wheelchair compact electrical worker for indoor use that it mounts large wheels (diameter 20cm.) in order to adapt itself to irregular or slightly unconnected paving. It is equipped with reclining back and leg raiser in order to guarantee maximum ***relax. Thanks to the reduced dimensions are the ideal in order to move in inner environments (house and office) with extreme facility.
Italian provinces with self-declared local suppliers: