Databases
Services
Submit
Restricted area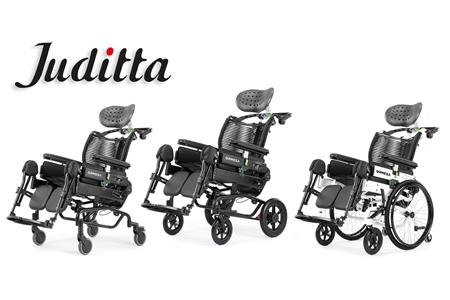 Push wheelchairs (ISO 12.22.18)
Tilting pushchairs (SIVA 12.22.18.S02)
Record number: 19169
Last update: January 2017
Brand: ORMESA
Model: JUDITTA
Technical details:
FUNCTIONALITIES
Armrest removable; Backrest Folding; Backrest reclining; Footrest Removable; Seat Swivel.

Available sizes:
CAPACITY / RANGE
Lifting capacity (kg): 140.
SEAT DIMENSIONS / ANGLES
Seat Depth (cm): 40; 43; 46; 49.
Seat Width (cm): 36; 40; 45; 50.
Description:
Tilting wheelchair transportation. The coating material it consists of visco-elastic strings. The particular V-shape backrest, allows to accomodate and contain the user's trunk supplying stability, without needs of lateral trunk supports. The complete armrests opening, allows an easy and fast user's transfer. The adjustement mechanism of the legrest is power assisted by a gas spring.
Brochures

Italian provinces with self-declared local suppliers: