Databases
Services
Submit
Restricted area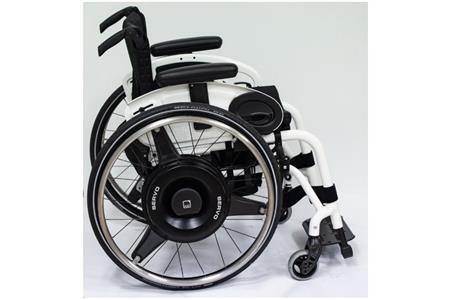 Propulsion units for manual wheelchairs (ISO 12.24.09)
Propulsion units (SIVA 12.24.09.S01)
Record number: 19530
Last update: February 2019
Brand: AAT ALBER ANTRIEBSTECHNIK
Model: SERVO
Prices and NHS prescribing
Information on public retail prices (VAT excluded) and NHS prescription codes (DPCM 12/01/2017), updated (as declared by the primary supplier) 09/04/2013
Basic configuration price: €4,980.00


Technical details:
ENERGY TYPE
Battery - rechargeable.

Available sizes:
CAPACITY / RANGE
Range of travel (km): 55.
Speed of travel (km/h): 6.
ENVIRONMENT / ACCESS DIMENSIONS
Max. Gradient / Slope (%): 20.
OVERALL DIMENSIONS
Weight (kg): 24.80.
Description:
The SERVO makes it possible for wheelchair users — even with reduced strength — to move independently and increase their range of action. Its standard program to drive uphill and downhill as well as its intelligent braking function make driving safely up- and downhill feasible. The working concept of the SERVO combines physical power and active mobility while it relieves joints and muscles.
Italian provinces with self-declared local suppliers: