Databases
Services
Submit
Restricted area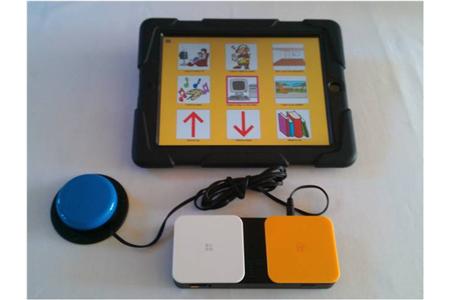 Input accessories (ISO 22.36.15)
Switch interfaces (SIVA 22.36.15.S02)
Record number: 19623
Last update: December 2013
Brand: ABLENET
Model: BLUE2-NEW
Technical details:
CONNECTIVITY
Bluetooth; Jack; Usb.
ENERGY TYPE
Battery - rechargeable.
INPUT DEVICES
Single Switch.
OPERATING SYSTEMS
iOS.
REPORTED WITHIN THE RESEARCH PROJECT
Cloud4All.

Description:
The NEW Blue2 switch is compatible with all switch accessible apps of apple devices. It is also possible to toggle the on-screen keyboard on and off for iOS devices. Blue2 supports both single and dual switch access through direct access using the two built-in switches.
Italian provinces with self-declared local suppliers: