Databases
Services
Submit
Restricted area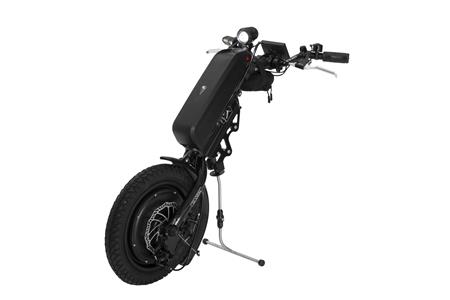 Propulsion units for manual wheelchairs (ISO 12.24.09)
Propulsion units (SIVA 12.24.09.S01)
Record number: 20831
Last update: September 2020
Brand: KLAXON
Model: KLICK RACE STANDARD
Technical details:
ENERGY TYPE
Battery - rechargeable.
STORAGE - TRANSPORT
Foldable.

Available sizes:
CAPACITY / RANGE
Range of travel (km): 50.
Speed of travel (km/h): 3; 6; 10; 13; 16.
ENVIRONMENT / ACCESS DIMENSIONS
Max. Gradient / Slope (%): 10.
OVERALL DIMENSIONS
Height (cm): 90.
Length (cm): 40.
Weight (kg): 11.
Width (cm): 50.
Description:
Thruster for manual wheelchairs (rigid / folding) equipped with a quick-release system. 48Vx1000W Brushless motor, 14"wheel, minimum turning radius to tackle difficult maneuvers, 5-speed settings, cruise control, walking pace, aluminum handlebar adjustable in height, depth and angle, 160mm disc brake with EBS. Autonomy approx. 50km. Included accessories: Battery 11Ah with battery charger, reverse gear, LCD-display, bell, foldable kickstand, splashguard.