Databases
Services
Submit
Restricted area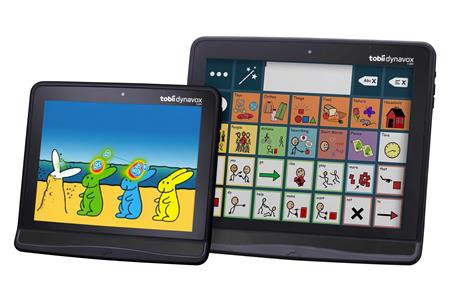 Alternate input devices (ISO 22.36.12)
Eyegaze systems (SIVA 22.36.12.S03)
Record number: 20977
Last update: February 2020
Brand: TOBII DYNAVOX
Model: TOBII SERIE I-15+ EVOLUTION
Technical details:
ACTIVATION MODALITIES
Eye blink; Eye gaze; Voice recognition.
BROWSERS
Chrome; Firefox; Internet explorer.
CONNECTIVITY
Bluetooth; Cloud or internet based application; Usb.
INPUT DEVICES
Double switch; Microphone; Multiple switch (joystick); Single Switch; Video camera/Webcam.
LANGUAGES
Danish; Dutch; English; French; German; Italian; Spanish.
OPERATING SYSTEMS
Windows.

Description:
Eye control communicator (eyepiece pointer) with 15" touch screen resistant to scratches and bumps, long lasting batteries. Born to assist learning and the evolution of communication. Includes the following software for communication and environmental management: • Tobii Communicator 5; • Tobii Mouse Emulation; • Tobii Gaze Selection; • Tobii Snap Scene; • Grid 3; • Tobii Gaze Viewer; • Look To Learn and Scenes and Sounds; • Sensory Eye FX.
Italian provinces with self-declared local suppliers: