Databases
Services
Submit
Restricted area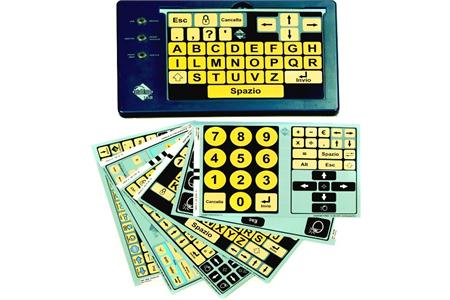 Keyboards (ISO 22.36.03)
Programmable (concept) Keyboards (SIVA 22.36.03.S04)
Record number: 7837
Last update: January 2015
Brand: INTELLITOOLS
Model: INTELLIKEYS USB
Prices and NHS prescribing
Information on public retail prices (VAT excluded) and NHS prescription codes (DPCM 12/01/2017), updated (as declared by the primary supplier) 11/06/2009
Basic configuration price: €370.00


Technical details:
CONNECTIVITY
Usb.
FUNCTIONALITIES
Programmable/configurable.
OPERATING SYSTEMS
Windows.
REPORTED WITHIN THE RESEARCH PROJECT
Cloud4All.

Available sizes:
OVERALL DIMENSIONS
Height (cm): 3.
Length (cm): 44.
Weight (kg): 0.75.
Width (cm): 26.
Description:
It is a customizable, flat, touch-sensitive device. Unlike standard keyboards with a fixed set of keys, the configuration of IntelliKeys can be changed by sliding different overlays onto the touch sensitive area.
Italian provinces with self-declared local suppliers: