Databases
Services
Submit
Restricted area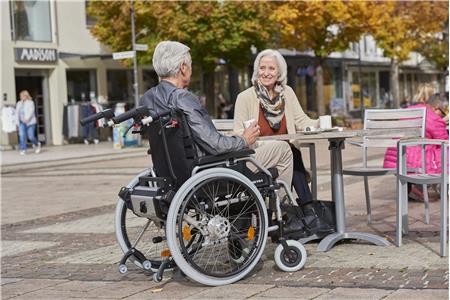 Propulsion units for manual wheelchairs (ISO 12.24.09)
Propulsion units (SIVA 12.24.09.S01)
Record number: 17620
Last update: February 2019
Brand: AAT ALBER ANTRIEBSTECHNIK
Model: V-MAX
Prices and NHS prescribing
Information on public retail prices (VAT excluded) and NHS prescription codes (DPCM 12/01/2017), updated (as declared by the primary supplier) 22/07/2011
Basic configuration price: €3,530.00


Technical details:
ENERGY TYPE
Battery - rechargeable.

Available sizes:
CAPACITY / RANGE
Range of travel (km): 25.
Speed of travel (km/h): 6.
ENVIRONMENT / ACCESS DIMENSIONS
Max. Gradient / Slope (%): 20.
OVERALL DIMENSIONS
Height (cm): 24.
Length (cm): 18.50.
Weight (kg): 17.50.
Width (cm): 47.50.
Description:
Make your manual wheelchair mobile with the pushing and braking aid v-max. Slopes, divided ramps and gradients are not an unsurmountable problem for you and your attendant any more. This pushing and braking aid supports you in all situations. To ascend slopes the powerful motor pushes the wheelchair up and downhill. It assists your attendant to control and brake the wheelchair. The driving speed can be adjusted continuously up to 6 km / hour.
Italian provinces with self-declared local suppliers: