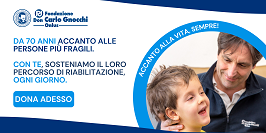 Databases
Services
Submit
Restricted area
De Lauso L
Alberto, age 72, motor disability: improving independence at home
Editorial data:
Portale SIVA Fondazione Don Carlo Gnocchi Onlus
Abstract:
Evaluation of suitable assistive devices for home reintegration with a good level of independence in daily activities and in social relations.
Year of publication:
2003
Type of document:
Case studies/experiences
Last update:
May 2003
De Lauso L
Single ad ogni costo! Il caso di Alberto
Editorial data:
Tesi Corso di Perfezionamento "Tecnologie per l'Autonomia". Università Cattolica Milano e Fondazione Don Gnocchi, a.a. 1999-2000
Abstract:
(text automatically translated from Italian) Alberto, engineer 72 years old, lives on the second floor of one alone mansion without elevator. Retired from some years, he still maintains an activity..
Year of publication:
2000
Type of document:
Thesis
Last update:
May 2003