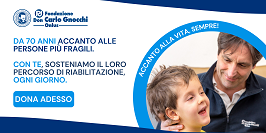 Databases
Services
Submit
Restricted area
SIVA Web Portal: terms and conditions for accessing and using the service
WEBSITE ACCESS
Fondazione Don Carlo Gnocchi ONLUS, hereinafter called the "Service Provider", provide access to this Web Site exclusively for personal and not lucrative reasons, subject to the following conditions.

CONTENTS
The material and information contained in this Web Site (for instance: data, texts, documents, images, scientific studies etc.) are carefully checked at the time of publication and do not ensure full coverage of the issues dealt with, therefore the Service Provider holds no responsibility for non-updated information after the date of publication or for non-authorised use of the aforesaid material and/or information.

COPYRIGHT
All the material contained in this Web Site - including texts, pictures, graphics, database, software, and HTML or ASP or ActiveX codes) - is protected, also by criminal law, by the current copyright regulations and is only accessible for personal reasons. Publication or reproduction - even partial - of any material contained in this Web Site is prohibited, except for previous authorisation by Fondazione Don Carlo Gnocchi Onlus.

LINKS
The Service Provider has no control over external web sites to which access is allowed through links contained in this Web Site, and consequently the Service Provider hold no responsibility with regard to either their contents or the availability (without interruption, prompt and secure) of the services offered thereof.

APPLICABLE LAW
The access to this Web Site and the use of the material and information contained herein is subject to Italian Law.