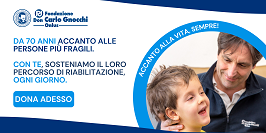 Databases
Services
Submit
Restricted area
Vannini R
Nicoletta, age 20, motor disability: improving independence at home
Editorial data:
Portale SIVA Fondazione Don Carlo Gnocchi Onlus
Abstract:
A car accident caused a tetraplegia and required lower limbs amputation. A global rehabilitation program that allows home reintegration and a good level of autonomy in everyday life activities is..
Year of publication:
2003
Type of document:
Case studies/experiences
Last update:
July 2003
Vannini R
Una nuova vita a vent'anni: va tutto bene!!! Il caso di Nicoletta
Editorial data:
Tesi Corso di Perfezionamento "Tecnologie per l'Autonomia". Università Cattolica Milano e Fondazione Don Gnocchi, a.a. 2000-2002
Abstract:
(text automatically translated from Italian) Nicoletta is 19 years old, from six months ago the ***assicuratrice, lives in family, she is fiancèe from three years and it has a life activates and..
Year of publication:
2002
Type of document:
Thesis
Last update:
May 2003